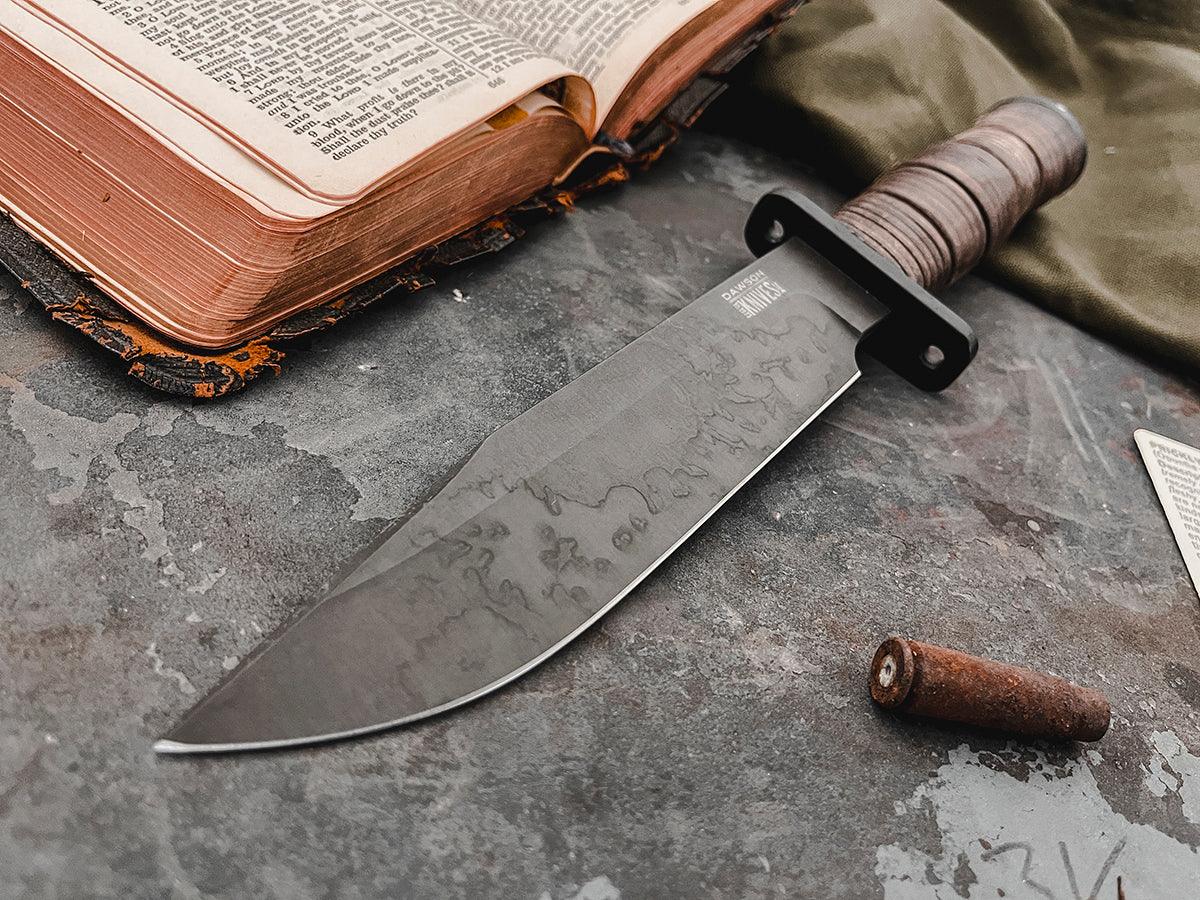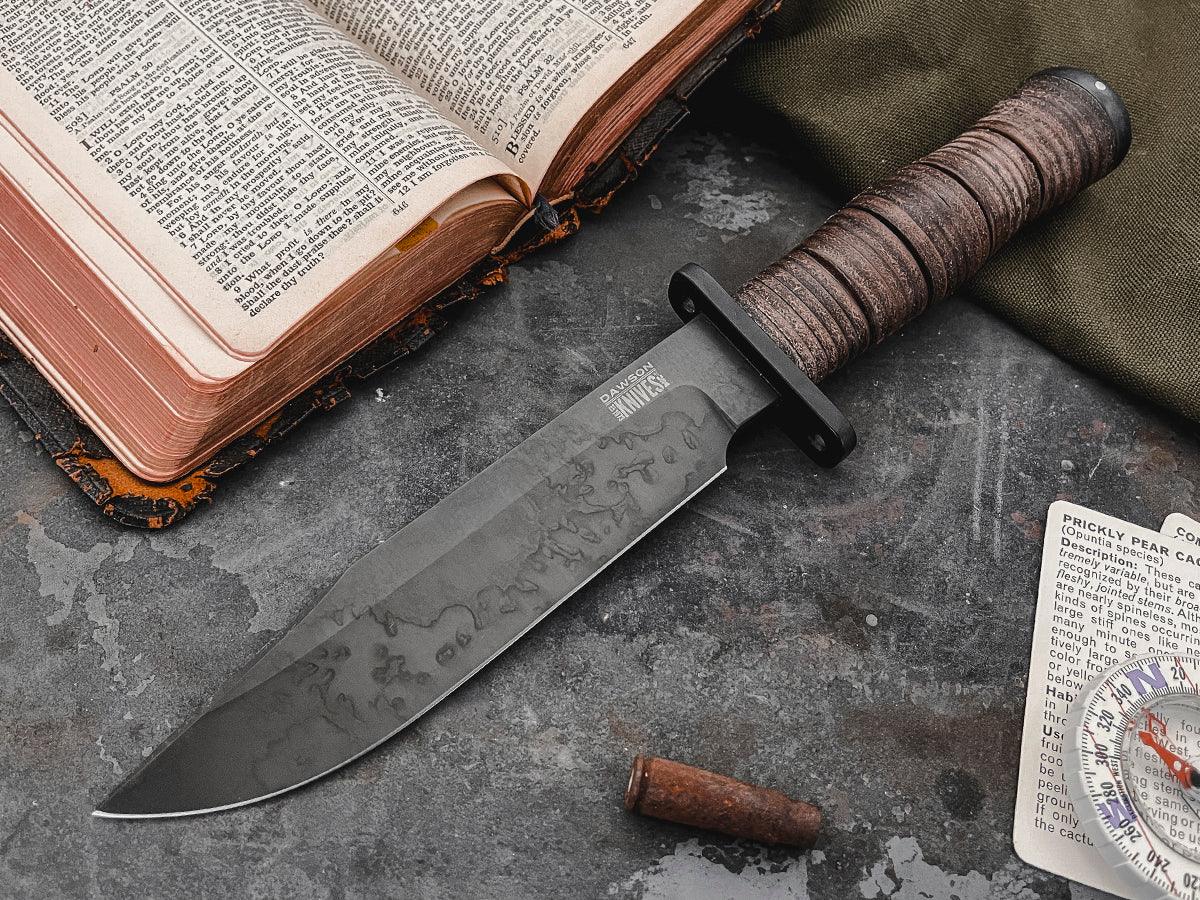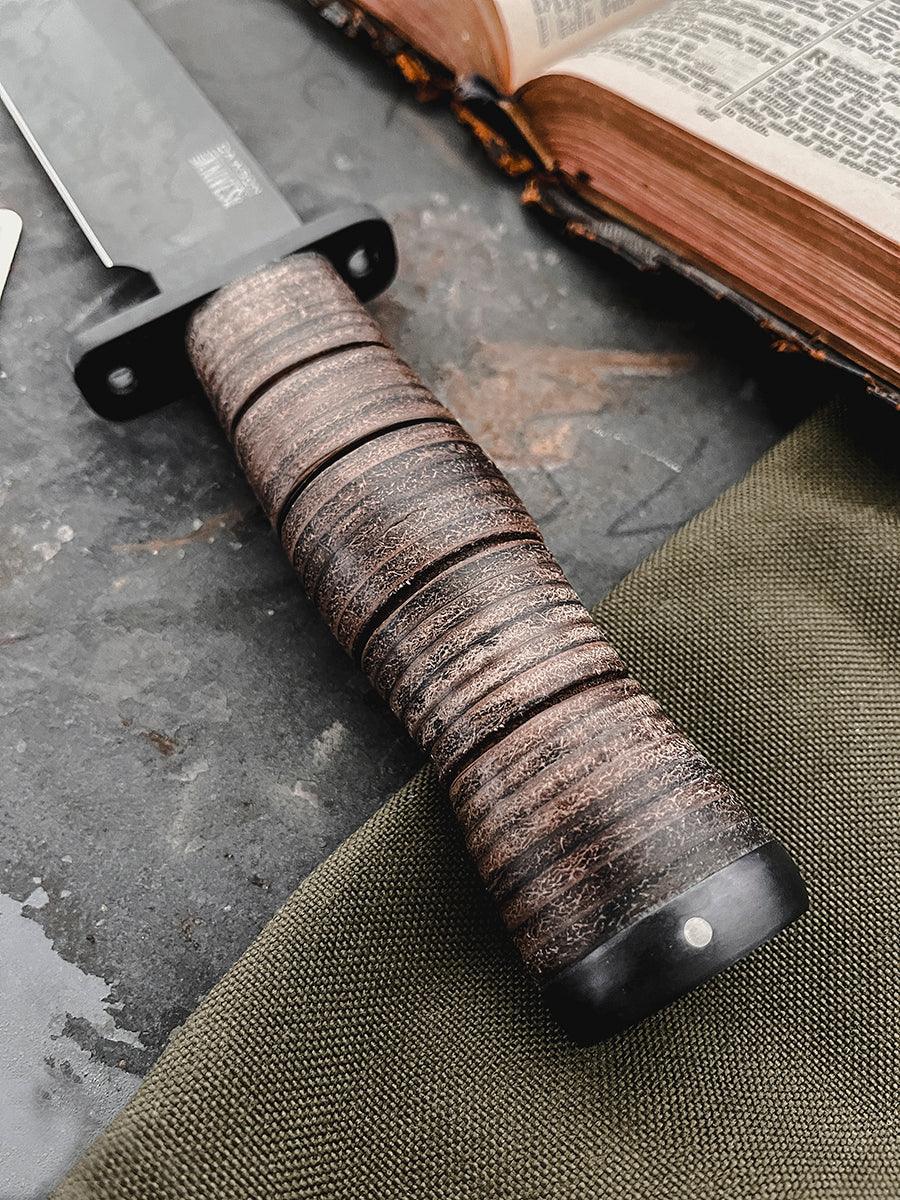 LIMITED EDITION War Dog | CPM MagnaCut | Apocalypse Black Finish
Features:
LIMITED RELEASE
100%

 

designed and handcrafted in the USA

.210" CPM MagnaCut American made

 

stainless

 

powder steel
Next evolution in blade steel - edge wear

 

2x longer

 

than

 

CPM-3V
100%

 

American made materials
Heat treated in-house for maximum toughness, durability and edge-holding capability
Rockwell 61-62
Industry-leading clear

 

Cerakote© finish helps protect your blade from corrosion
Solid steel, rounded rectangular handguard for maximum hand protection with minimal bulk
LIMITED EDITION rough and rugged Apocalypse Black finish, inspired by the gritty textures of the urban jungle
Stacked, compressed leather handle is hand-dyed and sealed
Lifetime free resharpen included
Protected by Dawson Knives' Common Sense Guarantee 
Description: Don't miss out on this special limited release! The War Dog is a modern take on a popular mid-century military knife, featuring a compressed and sealed leather handle and a fierce clip point top grind. The blade has been custom heat-treated with the Dawson's own proprietary method, delivering a tough, battle ready blade that's up for anything.
Blade: 6 3/4"
Overall: 11 7/8"
War Dog
I bought my second War Dog and am impressed again with this knife. Perfect fit and finish. This is a full size knife with heft and mass. Could be used for anything from a camp Bushcrafter to a tactical combat knife. Well made reincarnation of the WW II combat knife - just on steroids.
grouse hunting camper
I really think it is one of, if not the best, camping; fighting; all around knives you can buy. The reason I bought it is because of the great tough steel that stays sharp; hefty; looks; handle; and it has a double hilt. To me, the hilt means it is safer than any knife without a double hilt or single hilt, you can get hurt really bad without the hilt. So to me it is the perfect knife.
I knew it didn't have a lanyard hole and I would like to see one on it and I think if I would have asked you to put one on it you would have. The hole may have taken away from the wwII look but at least it should be an option. Thanks Frank
Excellent Knife
Looks great and very sharp.
Love the knife waiting on a Bowie to complete my collection!!
Another Solid Dawson
The War Dog w/apocalypse black finish is my seventh Dawson, and truly a favorite. The finish is incredible and the leather wrap feels great in my hand. It seems like everytime i say i own enough Dawsons, they release another beauty.
War Dog
A beautiful tough tool, a piece of art