G10 VS. CARBON FIBER:
WHAT'S THE DIFFERENCE?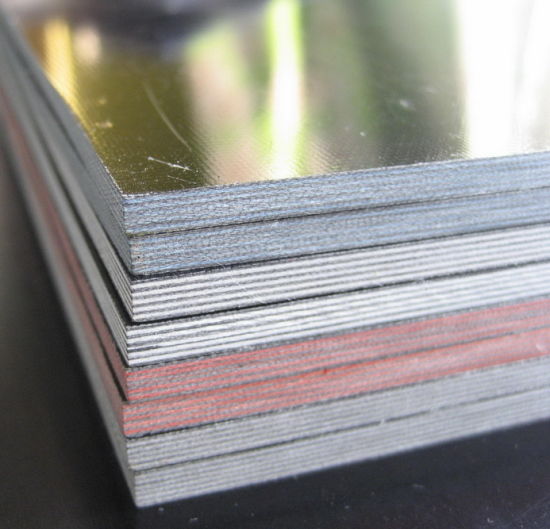 There are so many choices for knife handle materials available on the market today. So. Many.
Plastics, polymers, Micarta, laminates, stabilized woods, bone, ivory, stag and many more. There's also my personal favorites so far as astonishing strength, durability and resilience go: G10 and Carbon Fiber.


Let's start with G10. What is it? G10 is a composite material, made by layering sheets of epoxy-soaked glass cloth, then compressing the layers together under extreme heat and high pressure until the layers fuse and the epoxy cures. It's extremely tough, standing up even to direct hammer blows without breaking, never mind accidentally dropping it on a rock in the woods. It comes in many colors. It's also waterproof.

Most natural materials, even stabilized ones, can be susceptible to discoloration and changes in humidity over time. Staying wet for extended periods almost always results in warping or cracking. But G10 scoffs at both humid jungle environs and soaking wet white-water adventures. It makes an excellent textured handle, providing a hand-hugging, slip-resistant grip. Plus, we custom design and shape each of our handles with real human hands in mind, for a comfortable, intuitive feel that avoids hot spots.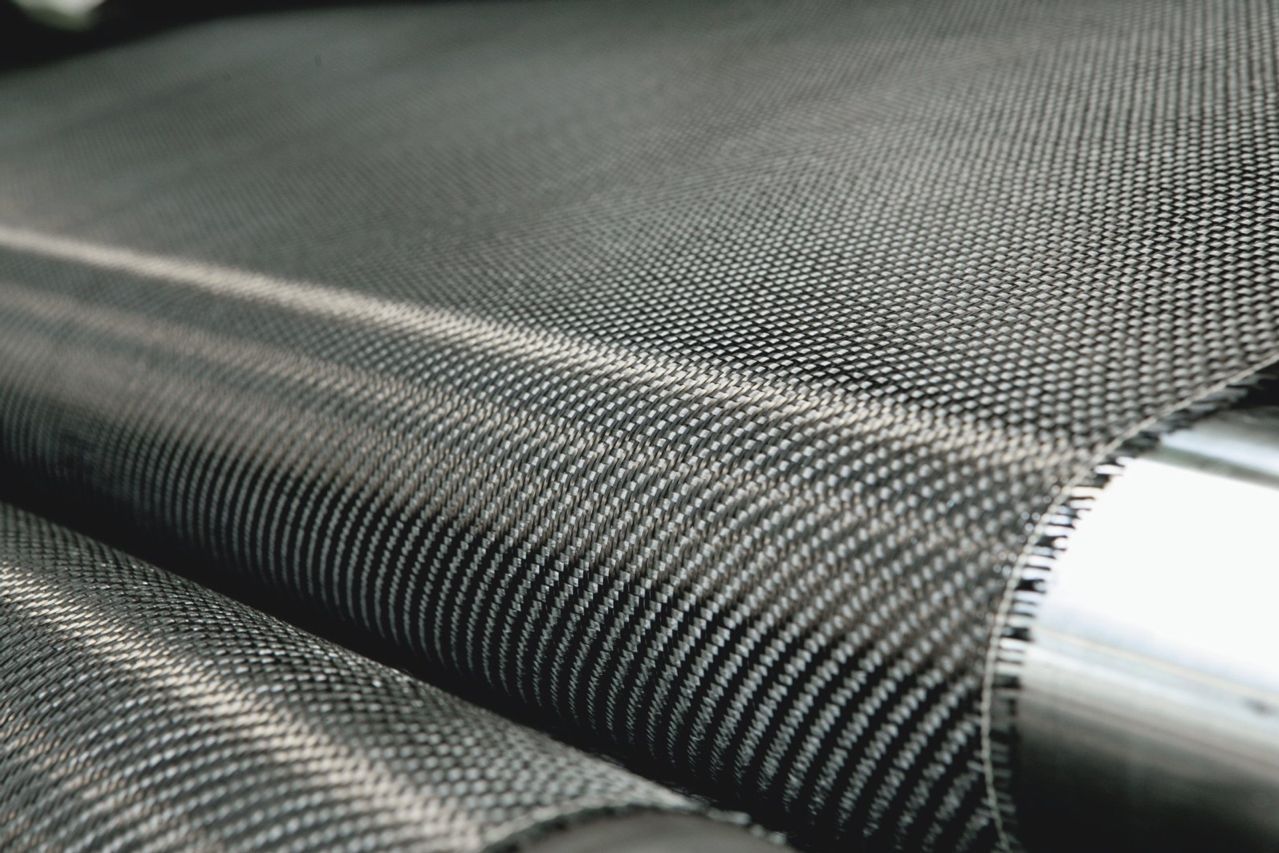 Carbon Fiber.
Carbon fiber is also sometimes known as graphite fiber. It's made from thin, strong micro-fine threads or "filaments" of almost 100% pure carbon. The filaments are twisted together in much the same way yarn is twisted, then woven into a sort of badass super-cloth.

Carbon fiber cloth is 5 times stronger than steel, twice as rigid and much lighter. This cloth is then saturated with a special resin, layered and compressed under high pressure to make the woven carbon fiber you see on some of the handles on our custom pieces, and the look that most people think of when they think of carbon fiber. Plus it comes in any color you want, so long as it's black.


But our composite engineering friends didn't stop there. New challenges beckoned!
"We craft all of our knives to stand the test of time. We needed handle materials that could keep up. G10 and Carbon Fiber are it."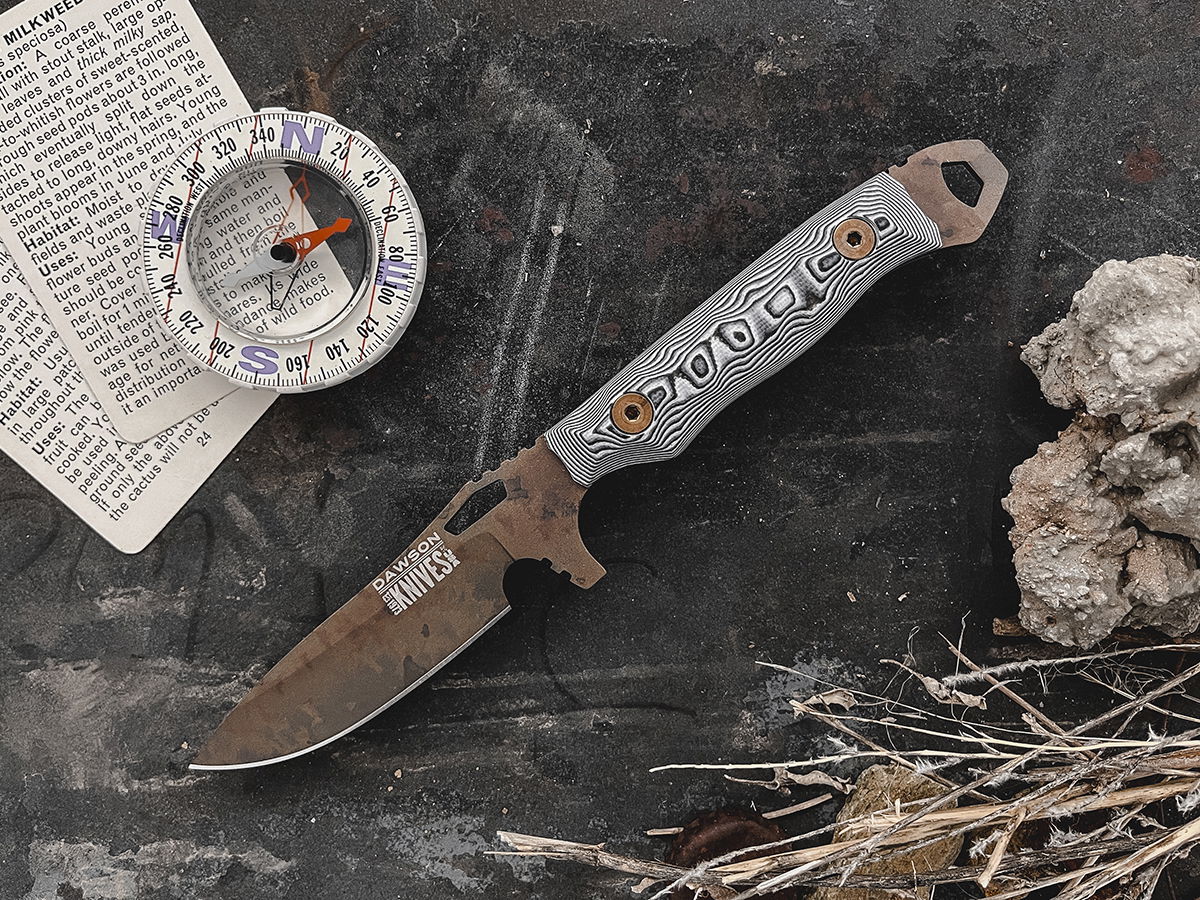 Outcast, White + Black G10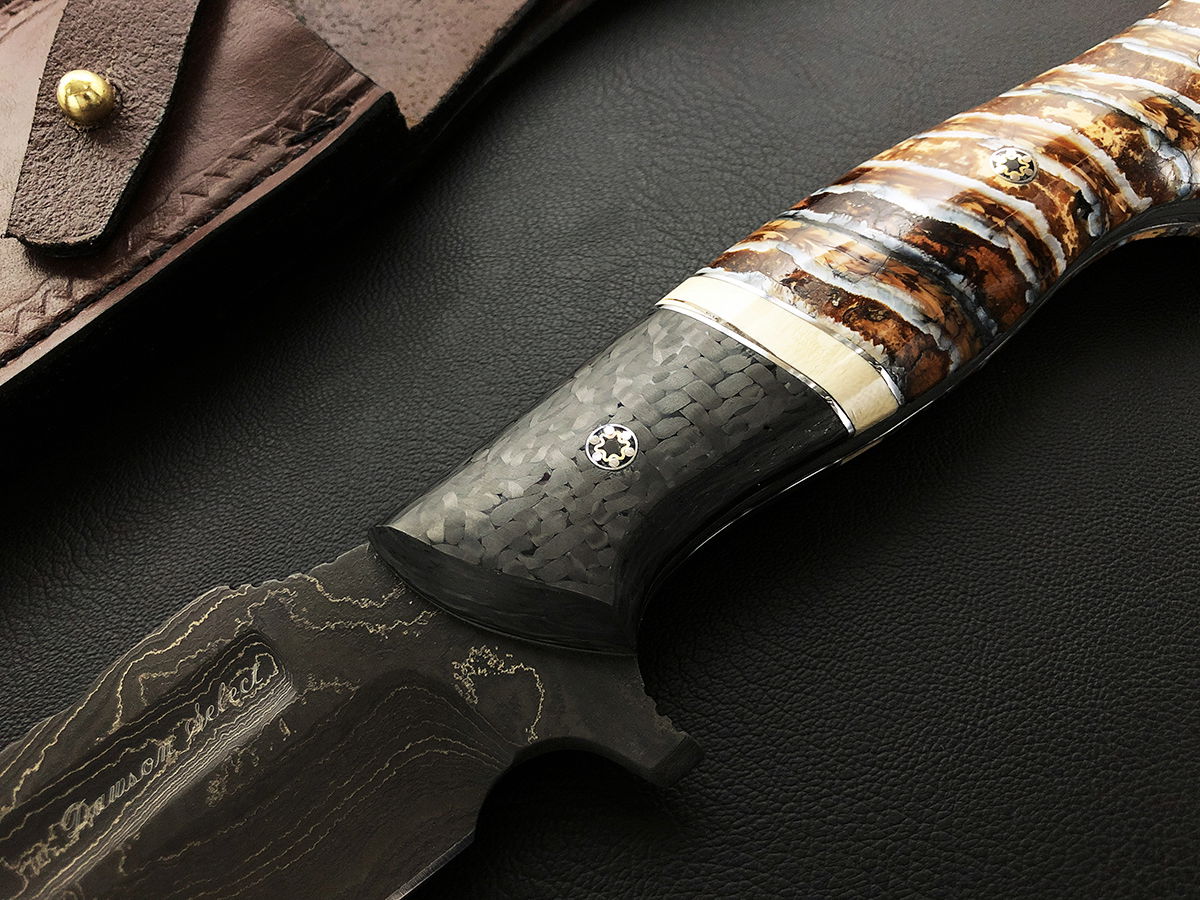 Jaecar Select Bowie, Woven Carbon Fiber bolsters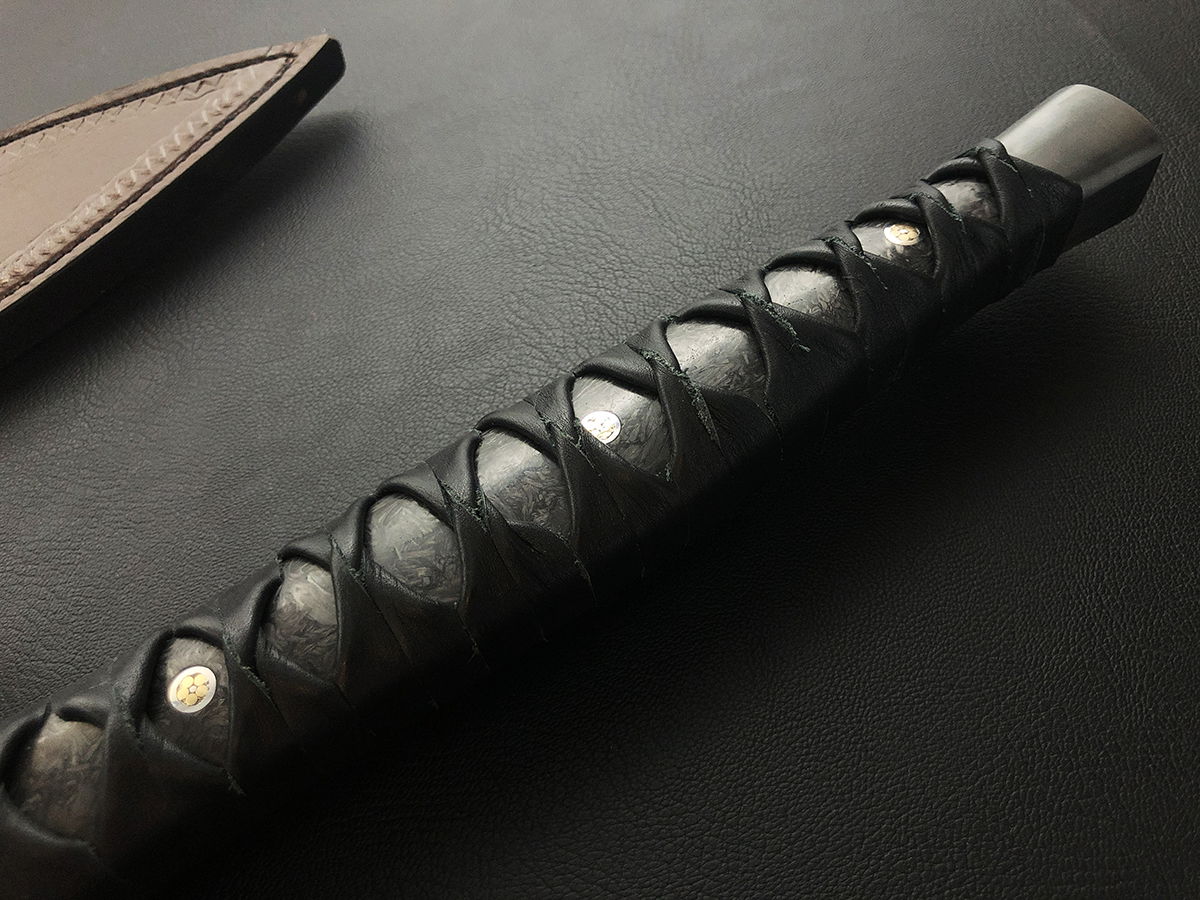 Crusader Broadsword, Marble Carbon Fiber handle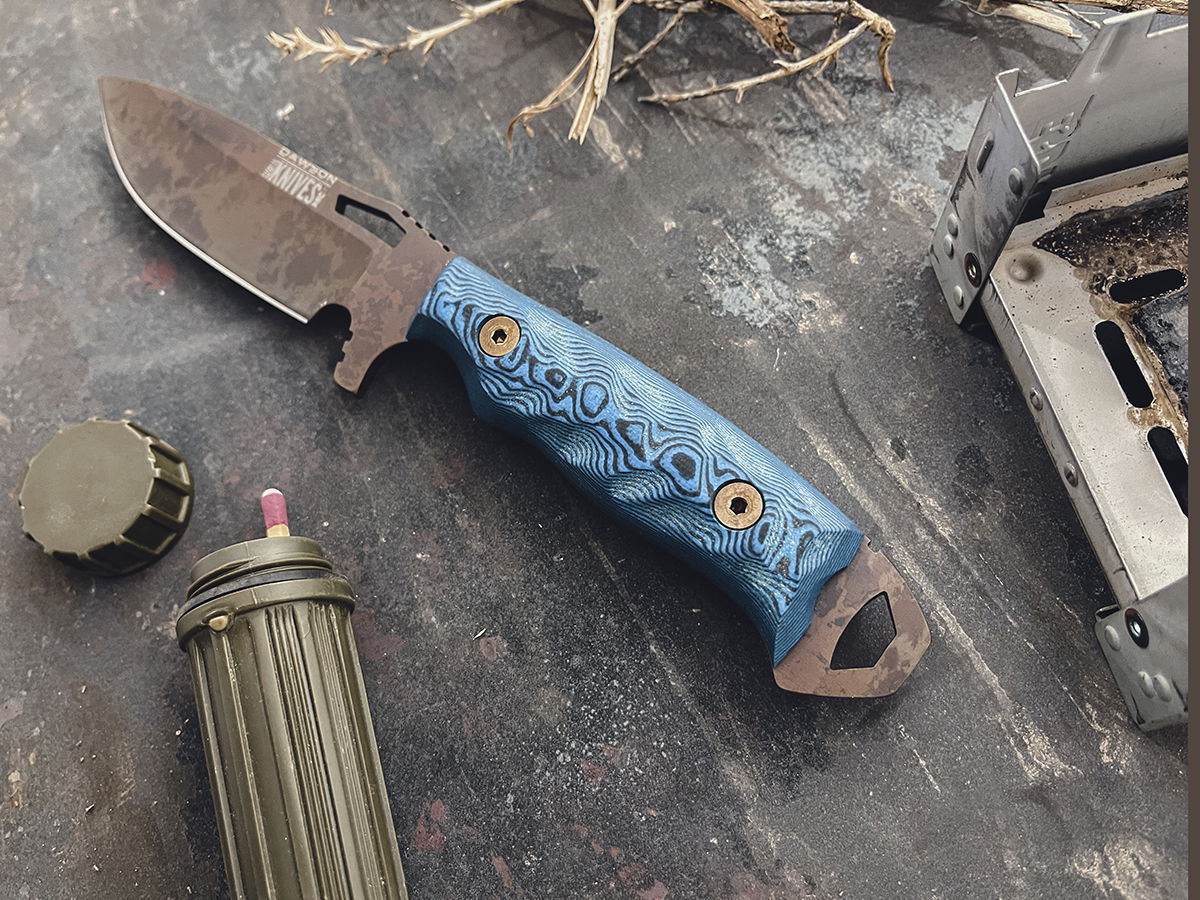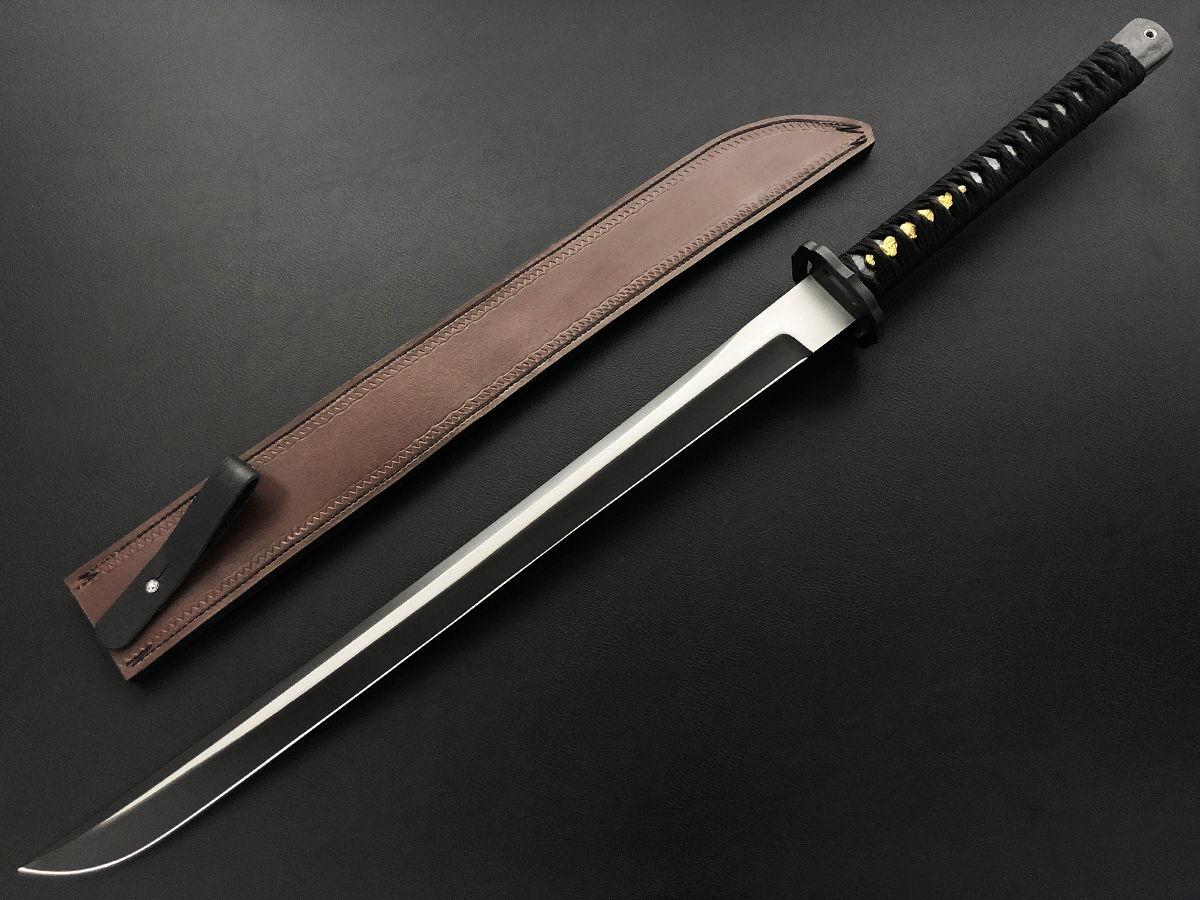 Marble Carbon Fiber.
Marble carbon fiber is manufactured in a similar way, by taking those same super-strong carbon fiber strands and mixing them with resin, then compressing the whole shebang under about 1800 tons of pressure. That stuff's tough, believe me. Also waterproof, extremely heat-resistant and awful sexy looking. It has a totally unique, multi-dimensional appearance that looks great with a nice matte polish, especially against the rich ore-vein tones of our Scorched Earth finish.

We're introducing marble carbon fiber this year to our lineup, for much the same reason we chose G10. It's a good-looking, premium handle material that's going to stand up to whatever you can dish out and keep right on truckin'.

We craft all of our knives to stand the test of time. We needed handle materials that could keep up. G10 and Carbon Fiber are it.