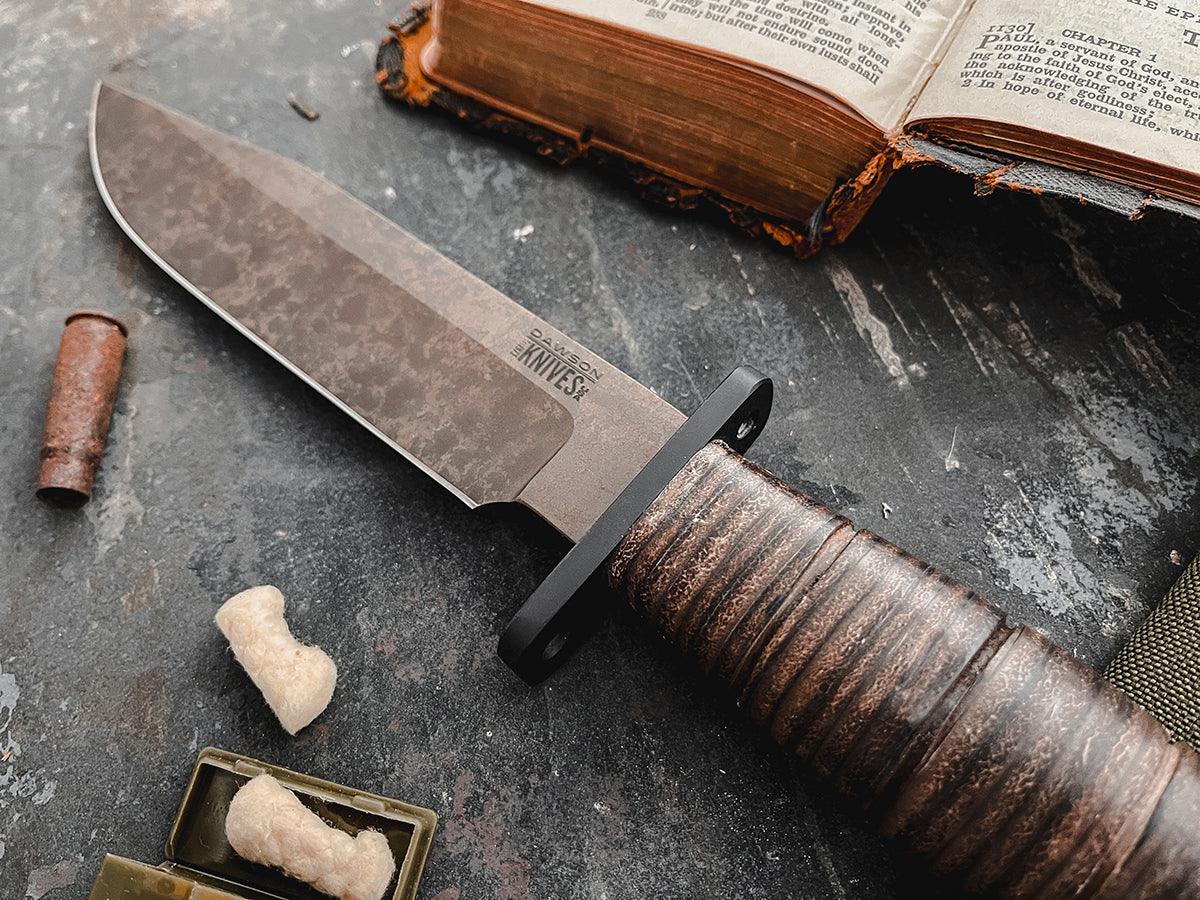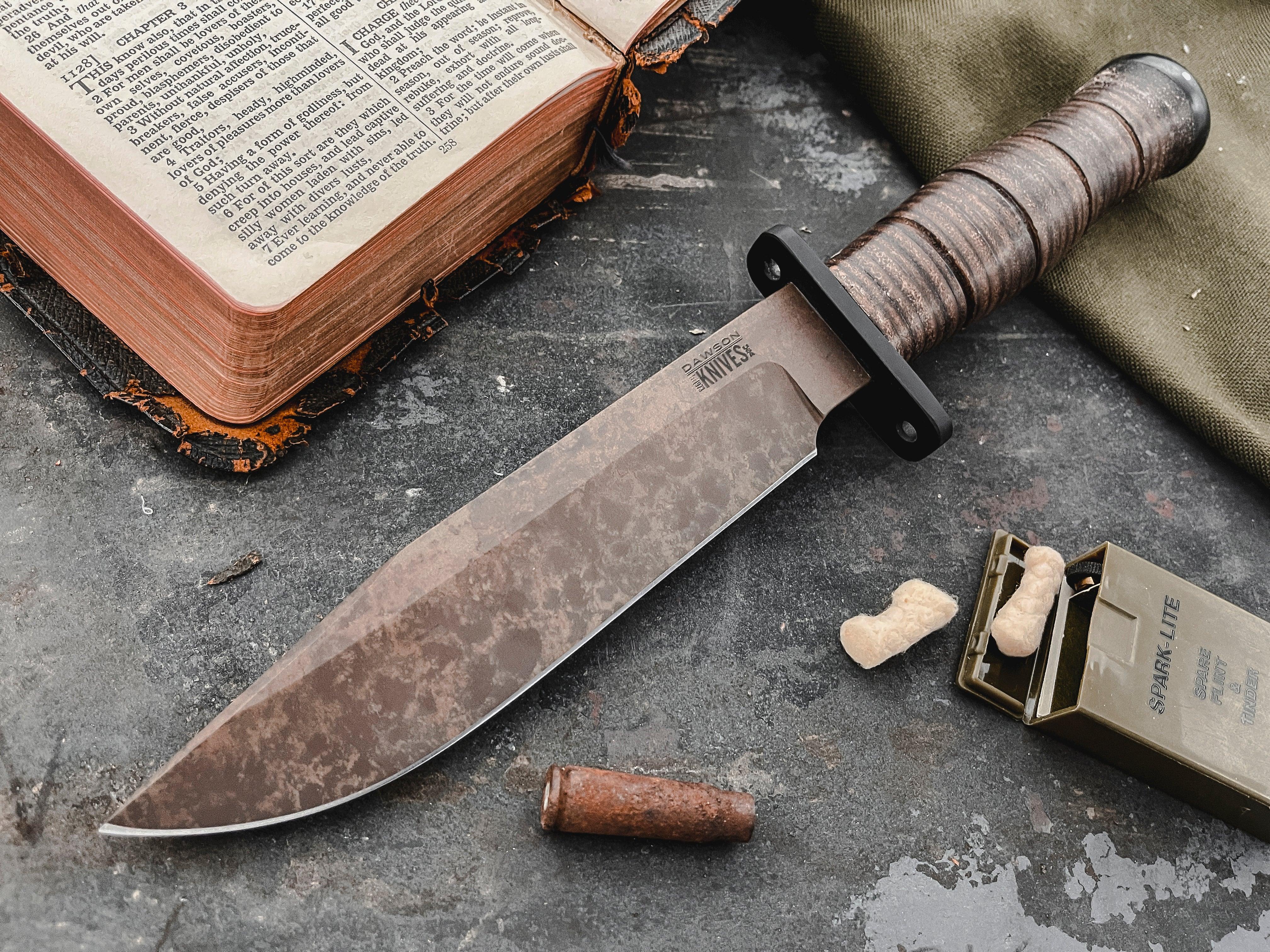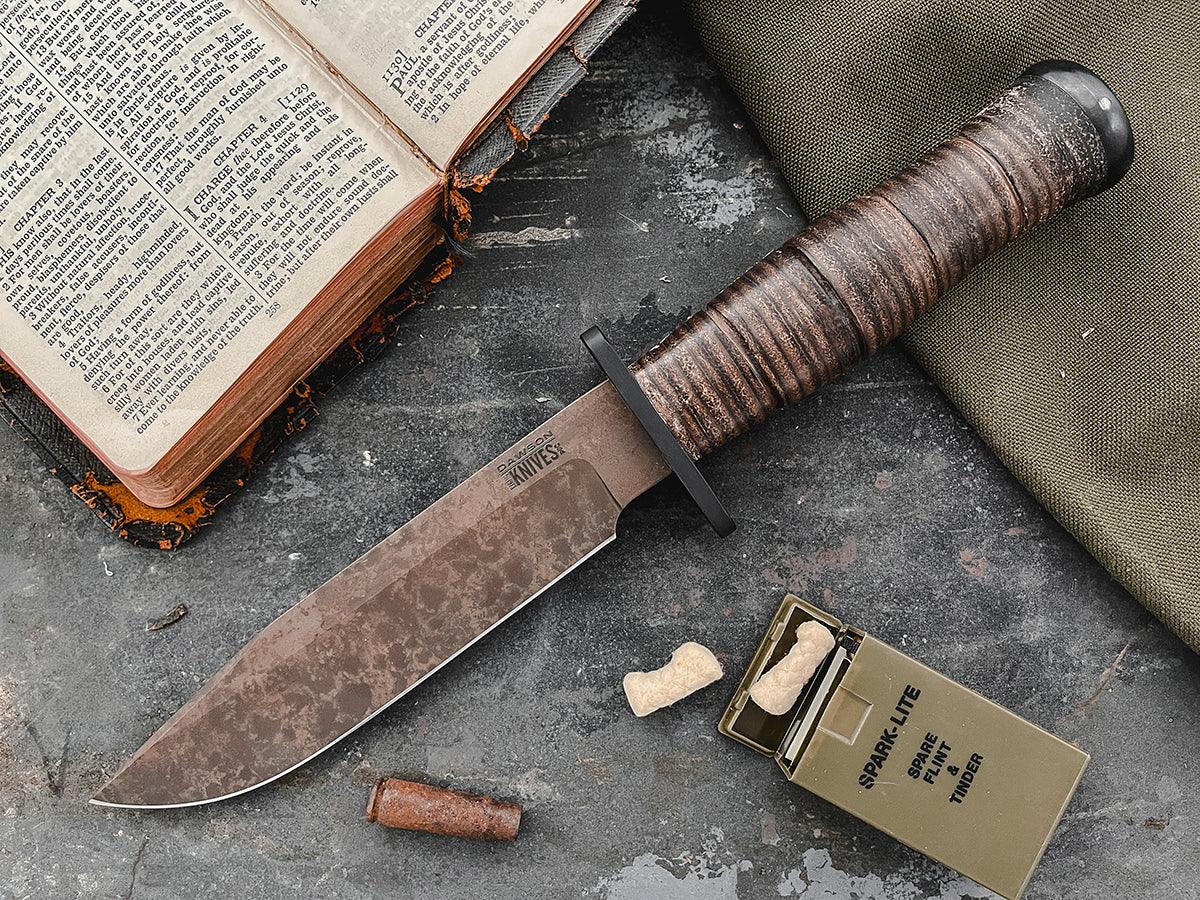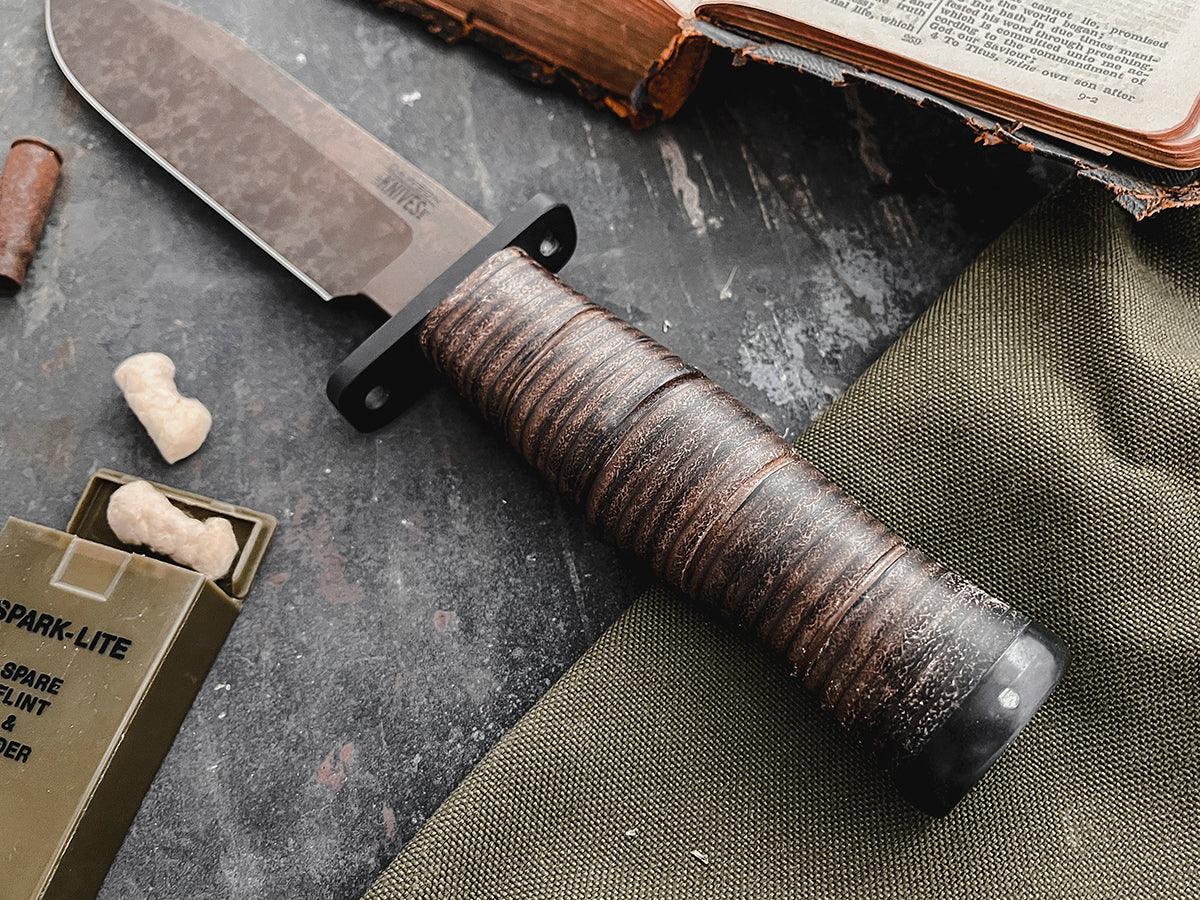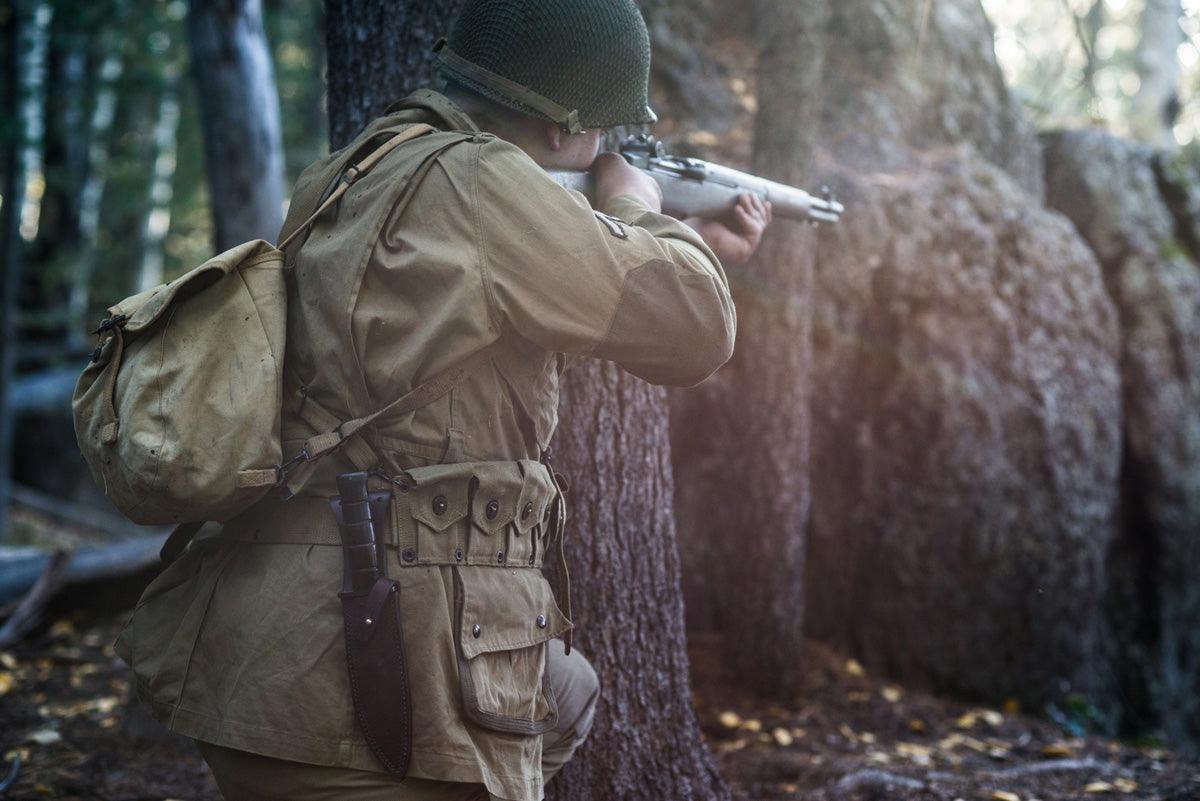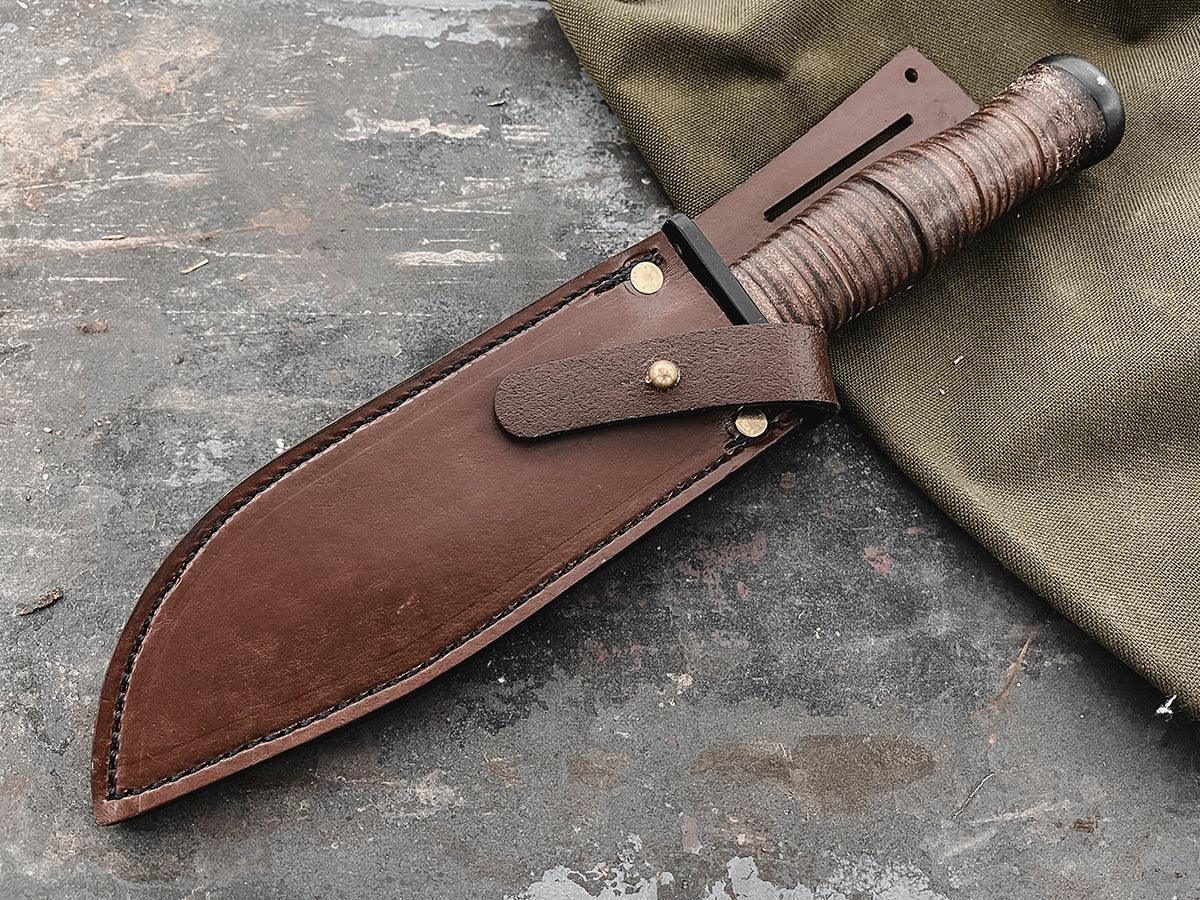 LIMITED EDITION War Dog | CPM MagnaCut | Scorched Earth Finish
Features:
LIMITED RELEASE
100%

 

designed and handcrafted in the USA

.210" CPM MagnaCut American made

 

stainless

 

powder steel
Next evolution in blade steel - edge wear

 

2x longer

 

than

 

CPM-3V
100%

 

American made materials
Heat treated in-house for maximum toughness, durability and edge-holding capability
Blade: 6 3/4"

 

Overall:

 

11 7/8"
Rockwell 61-62
Scorched Earth blade finish - rich dark bronze with a darker earth camouflage pattern
Industry-leading clear

 

Cerakote© finish helps protect your blade from corrosion

Solid steel, rounded rectangular handguard for maximum hand protection with minimal bulk
Stacked, compressed leather handle is hand-dyed and sealed
Lifetime free resharpen included
Protected by Dawson Knives' Common Sense Guarantee 
Description: Don't miss out on this special limited release! The War Dog is a modern take on a popular mid-century military knife, featuring a compressed and sealed leather handle and a fierce clip point top grind. The blade has been custom heat-treated with the Dawson's own proprietary method, delivering a tough, battle ready blade that's up for anything.
Blade: 6 3/4"
Overall: 11 7/8"
A Hearty Companion
I've had my War Dog for about a month now and haven't had many chances to use it, but the few times I have it's performed magnificently! Cuts through and sticks in hay flakes like it belongs there and baling twine stands no chance against the blade. I love the sheath style with the extra strap more than the kydex and leather sheaths that come with pretty much every other Dawson knife and wish they would use this style more often or at least make it an option for purchase. The extra strap feels better for retention and adds more peace of mind that some random person won't just come up and snatch the blade away.
Fits perfectly on a belt off the hip and doesn't interfere with my horse or myself while riding and is very useful for clearing away branches and shrubbery. Would love to see this style sheath more often and love my War Dog with the scorched earth finish and have even gotten a few complements on it in the short time I've had it.
War Dog with scorched earth finish
Phenomenal quality, love the finish on the blade and great feel to the leather handle plus the handle seems a bit more robust then old school ka bars which is a plus
CPM Magnacut War Dog
Couldn't be happier with my new War Dog! Gorgeous and Ultra Robust! Beautiful addition to my Dawson Collection!