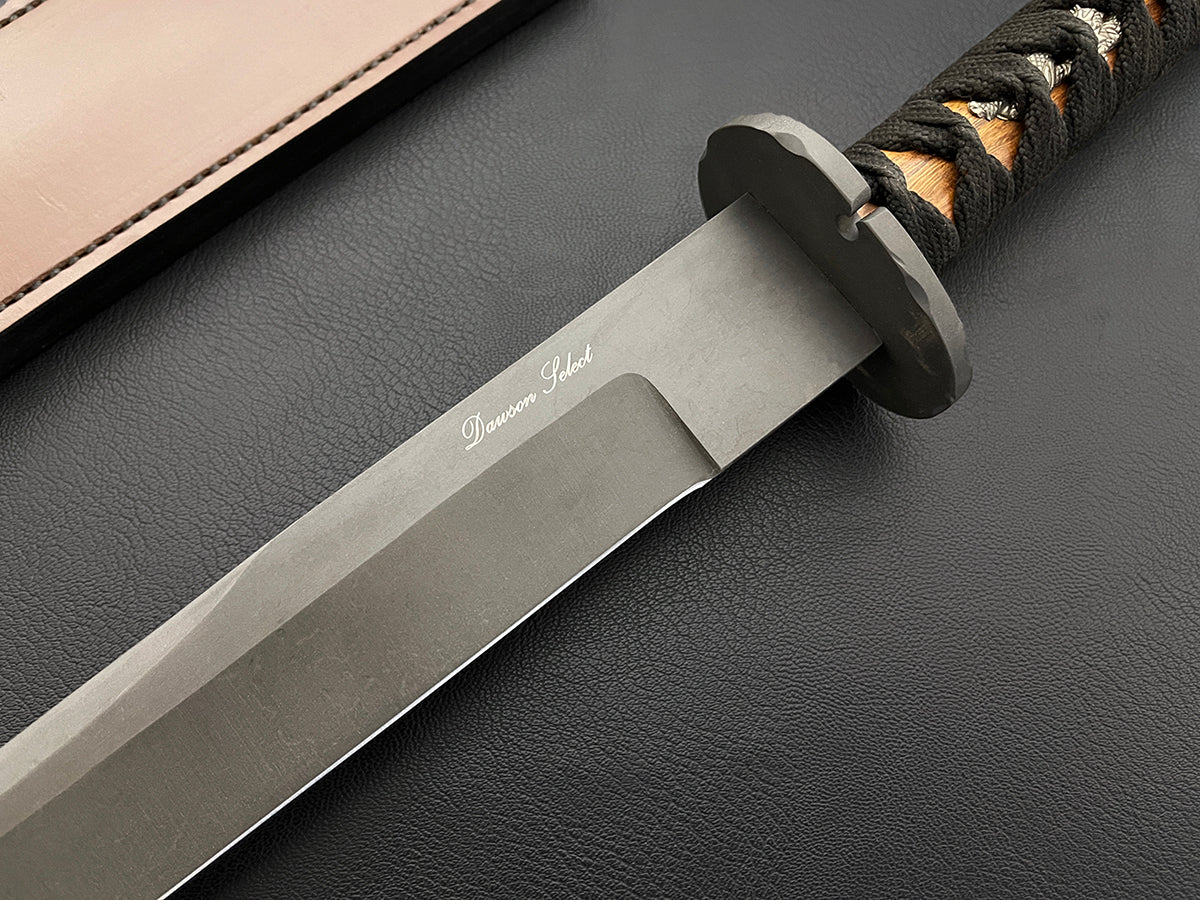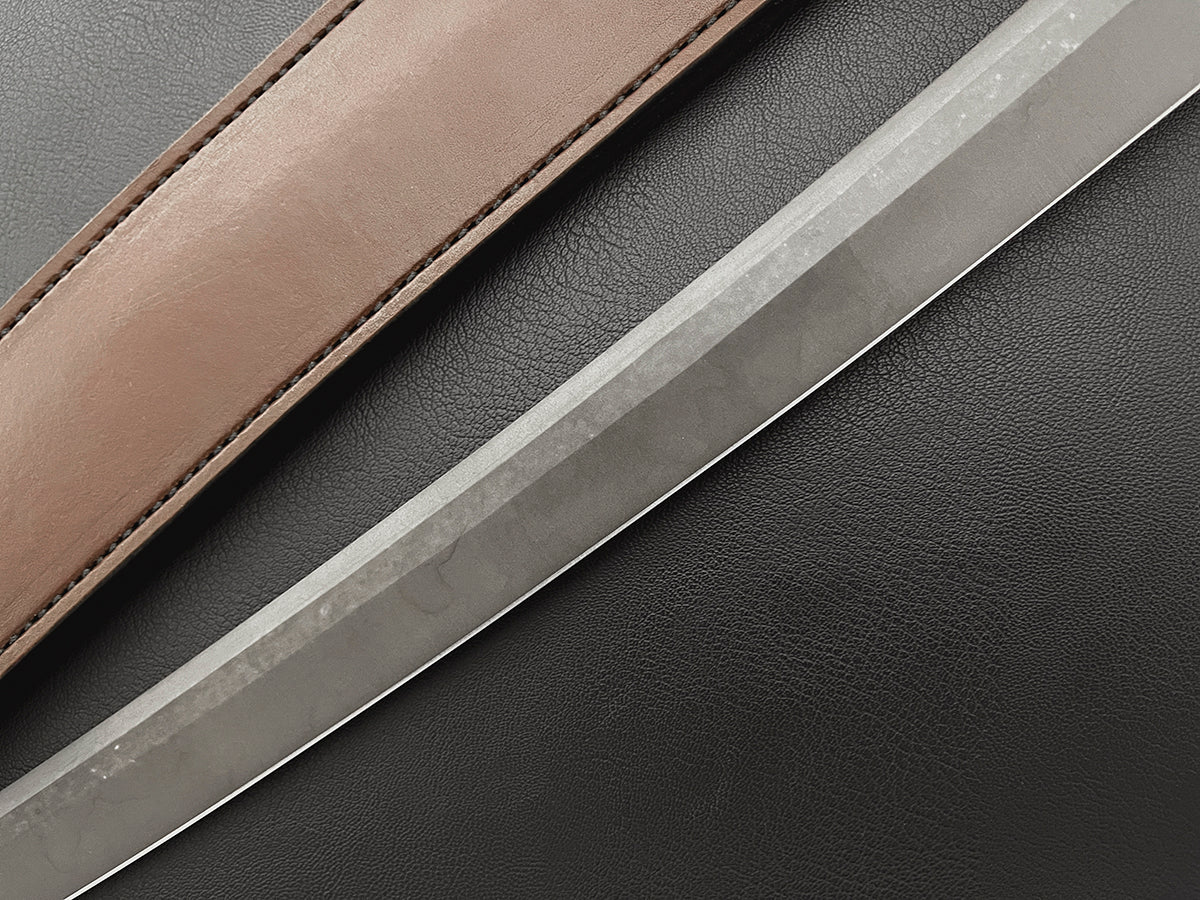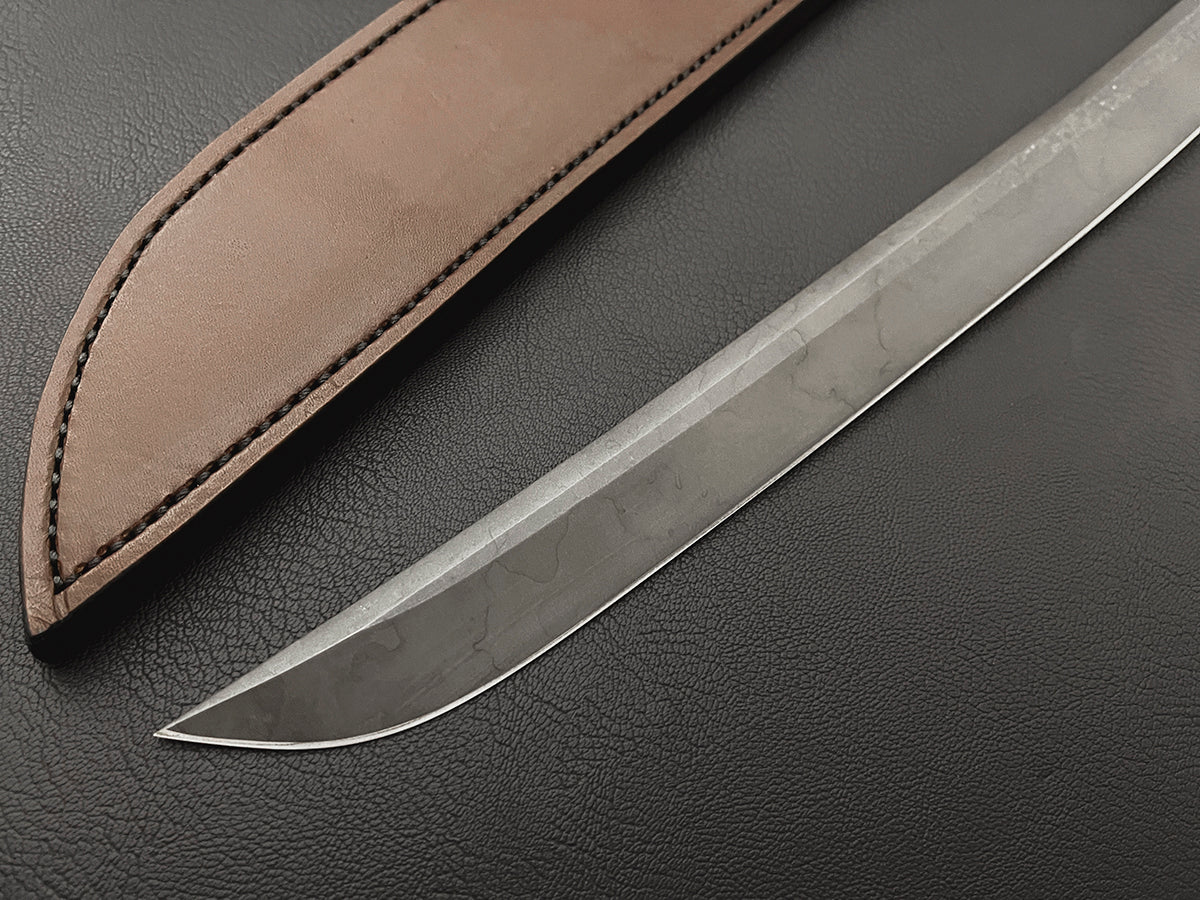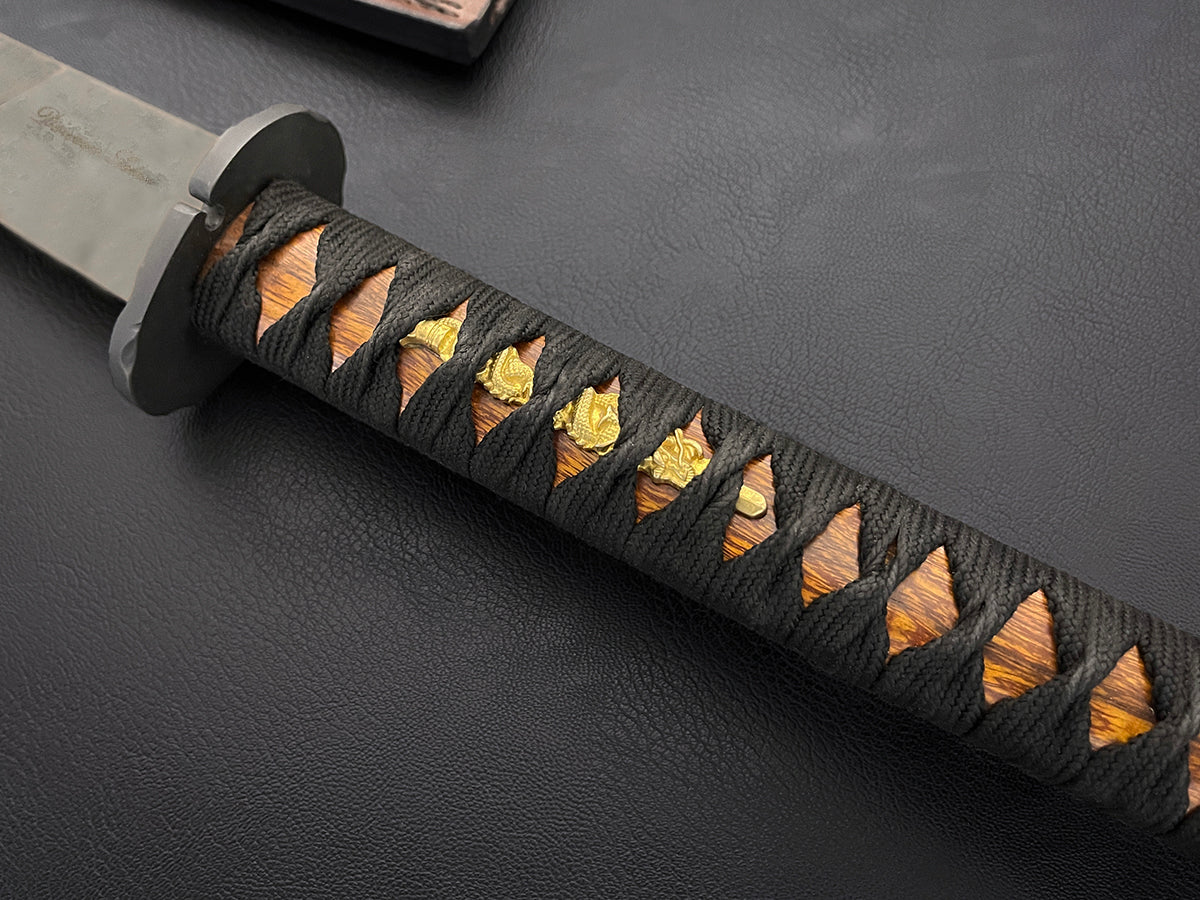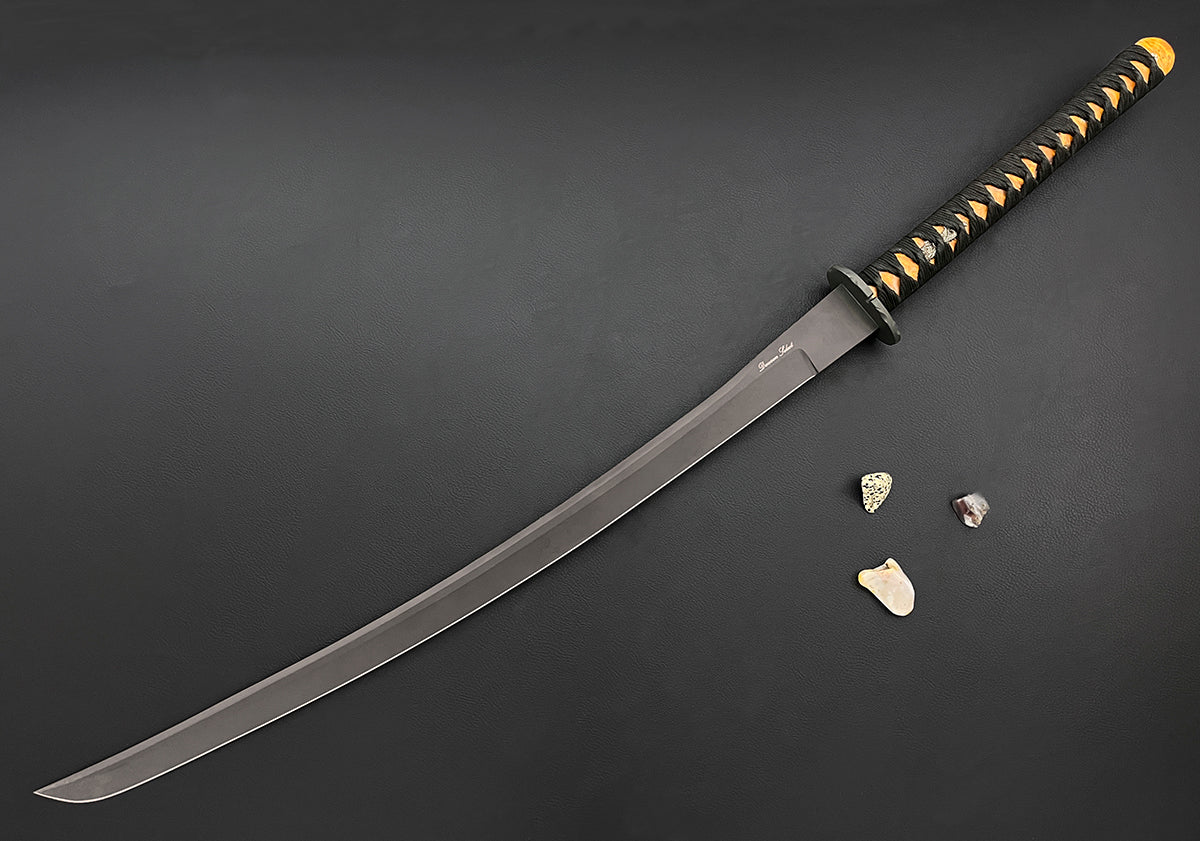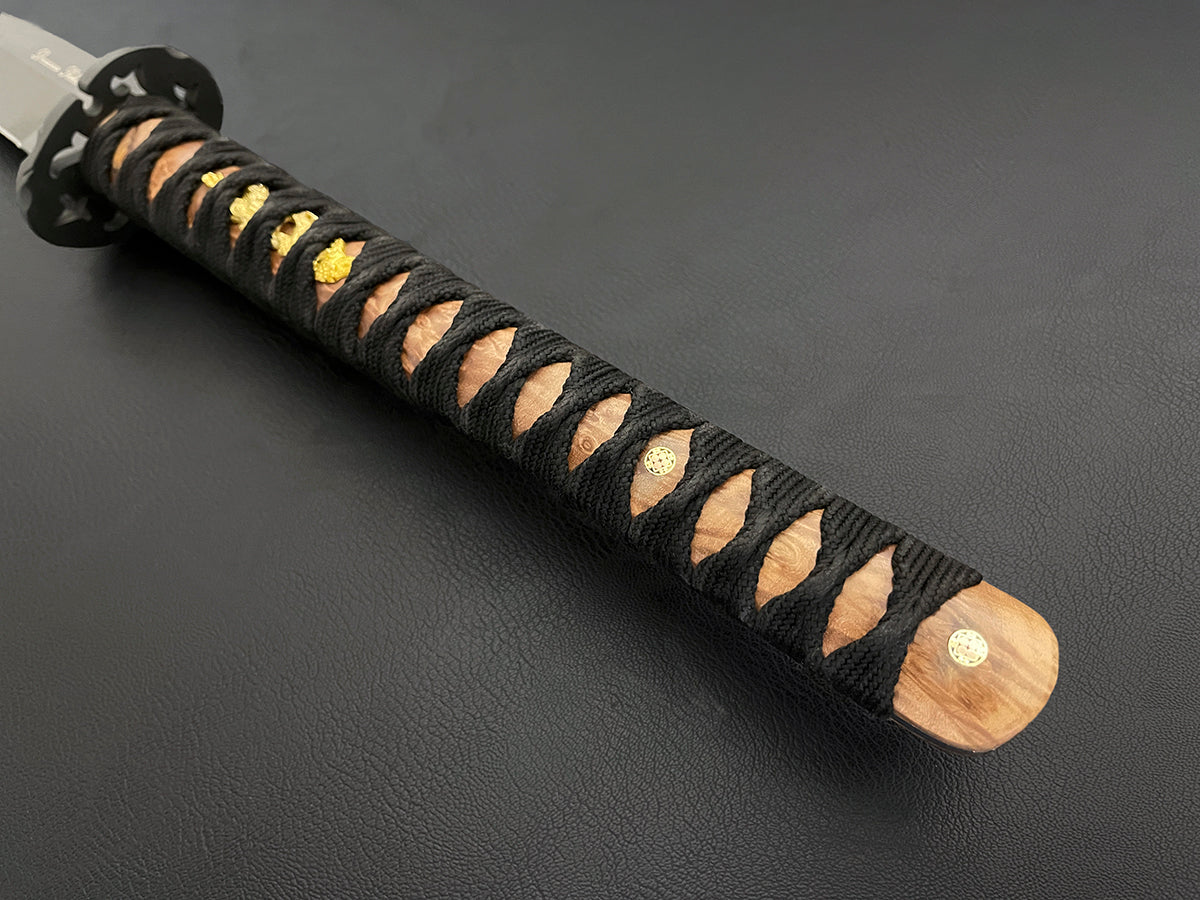 Tokugawa | Dawson Select 25" Japanese Katana | Apocalypse Black Finish
Features:
.210" CPM MagnaCut American made

 

powder steel

Next evolution in blade steel - edge wear 2x longer than CPM 3V
Heat treated in-house for maximum toughness, durability and edge-holding capability
Next evolution in blade steel - edge wear 3x longer than D2
100%

 

American made materials
Heat treated in-house for maximum toughness, durability and edge-holding capability
Rockwell:

 

61-62
Rough and rugged Apocalypse Black finish, inspired by the gritty textures of the urban jungle

Custom CPM-3V steel tsuba (handguard) with an antiqued black finish


Dragon menuki

Top bevel for balance and penetration

Japanese interlocking wrap in

black cotton silk

Custom fit stitched leather sheath
Lifetime free resharpen included
Protected by Dawson Knives' Common Sense Guarantee
Blade Length: 24.5"
Overall Length: 35 3/4" 
Excellent Sword
The Dawson Tokugawa 25" Japanese Katana with the Apocalypse Black Finish is a work of art. This is a sword that you can pass on to your kids.
Tokugawa 25"
A special thank you to all of the crew at Dawson Knives. They were all so helpful. I had only recently been made aware of their products through a friend who had studied their sword and knife making process and was convinced that their products stood head and shoulders above their competitors. I called them several times and peppered Kika and Meridian with specific questions about their swords. They provided answers for every question I asked and when I asked if I could come to Arizona in order to handle their products, they arranged a tour of Dawson's facility. I was fortunate to visit on a day when they were putting the finishing touches on several swords, one of which was a 25" Tokugawa, which hadn't been previously sold. Viewing the outstanding craftsmanship and experiencing the excellent balance and the just-so-right weight were enough to convince me to purchase that sword. I anticipate purchasing one, if not more, swords moving forward. Once again, thanks to all of the folks at Dawson--you were terrific. Doug Warcup
Bad mood but still happy
All I can say is amazing!! Beautiful!! And this is written when I am in a terrible bad mood. Well done. This sword is only second to the word of God
great sword
The katana is great! it lived up to all of my expectations. Can't wait to give it a go.
Mind boggling!
Thanks to Mike Adams for introducing Dawson Knives to me and to many other America loving, Veterans, God lead & Loving Patriot preppers!! Thanks Mike for all your recs!!! I am extremely blessed for this to be my second sword from Dawson! I also bought and amazing EDC carry knife from them as well and just ordered a 7 inch blade from them just now! Can I say obsessed?! The quality and craftsmanship is mind blowing. I have practiced martial arts my entire adult life and this is about as good as it gets. The biggest kudos is to the balance of this sword. 3rd generation American made, cutting edge steel, beautiful art and craftsmanship, what more could you want?!
PS- some of your reviews on this sword are shear warrior-poet poetry! Lol🙏🏻🇺🇸🇺🇸🇺🇸