Snakebite | CPM-3V Steel | Specter Finish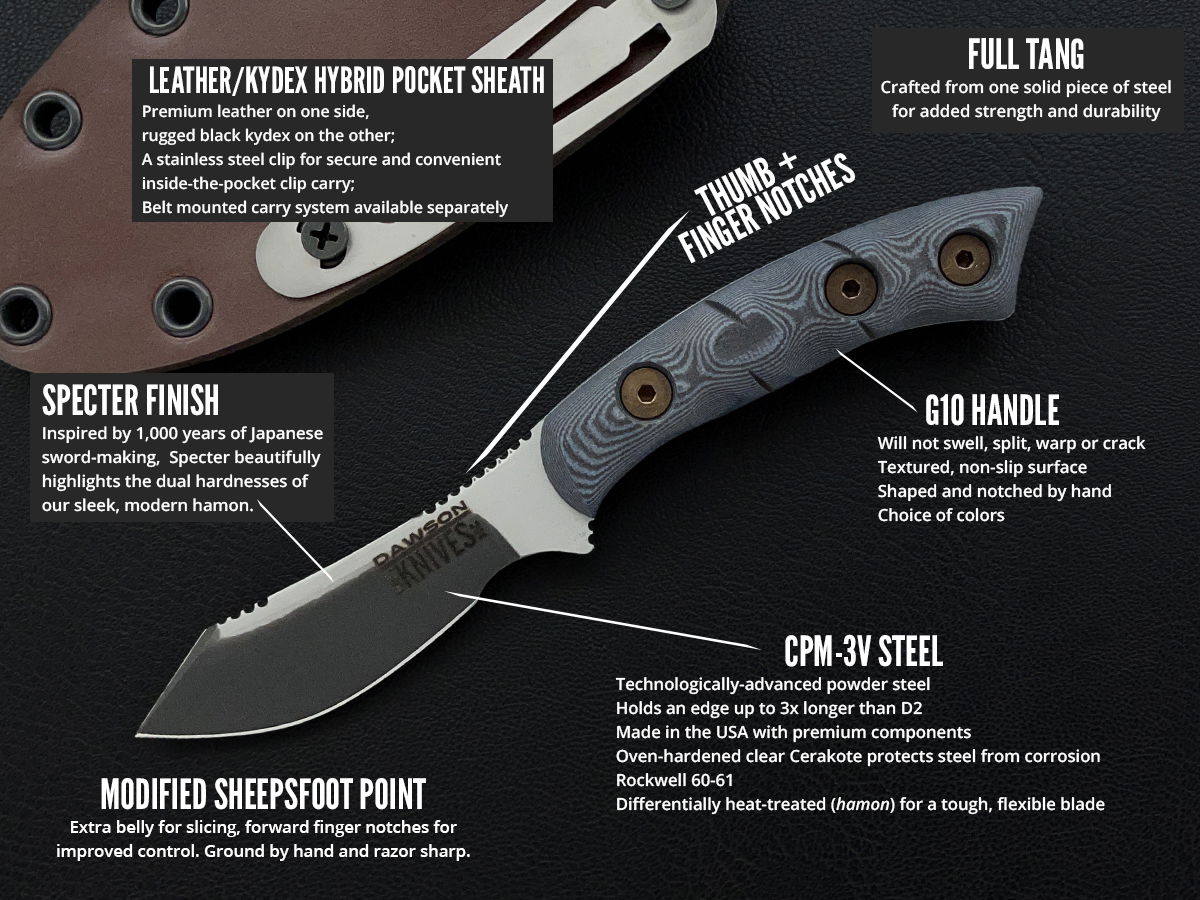 SPECS
100% designed and handcrafted in the USA
.140" CPM-3V American made powder steel
Next evolution in blade steel - edge wear 3x longer than D2
100% American made materials
3" blade, 6 3/4" overall
4oz knife only / 6oz including sheath
Heat treated in-house for maximum toughness, durability and edge-holding capability
Rockwell 60-61
Slim, lightweight profile and fine point
Beautiful two-toned Specter finish
Textured G10 handle will not swell, split, warp or crack
Industry-leading clear Cerakote© finish protects your blade from corrosion
All-weather black Kydex© sheath, designed for convenient inside-the-pocket carry
Thumb and finger rests for control and safe handling
Lifetime free resharpen
Protected by Dawson Knives' Common Sense Guarantee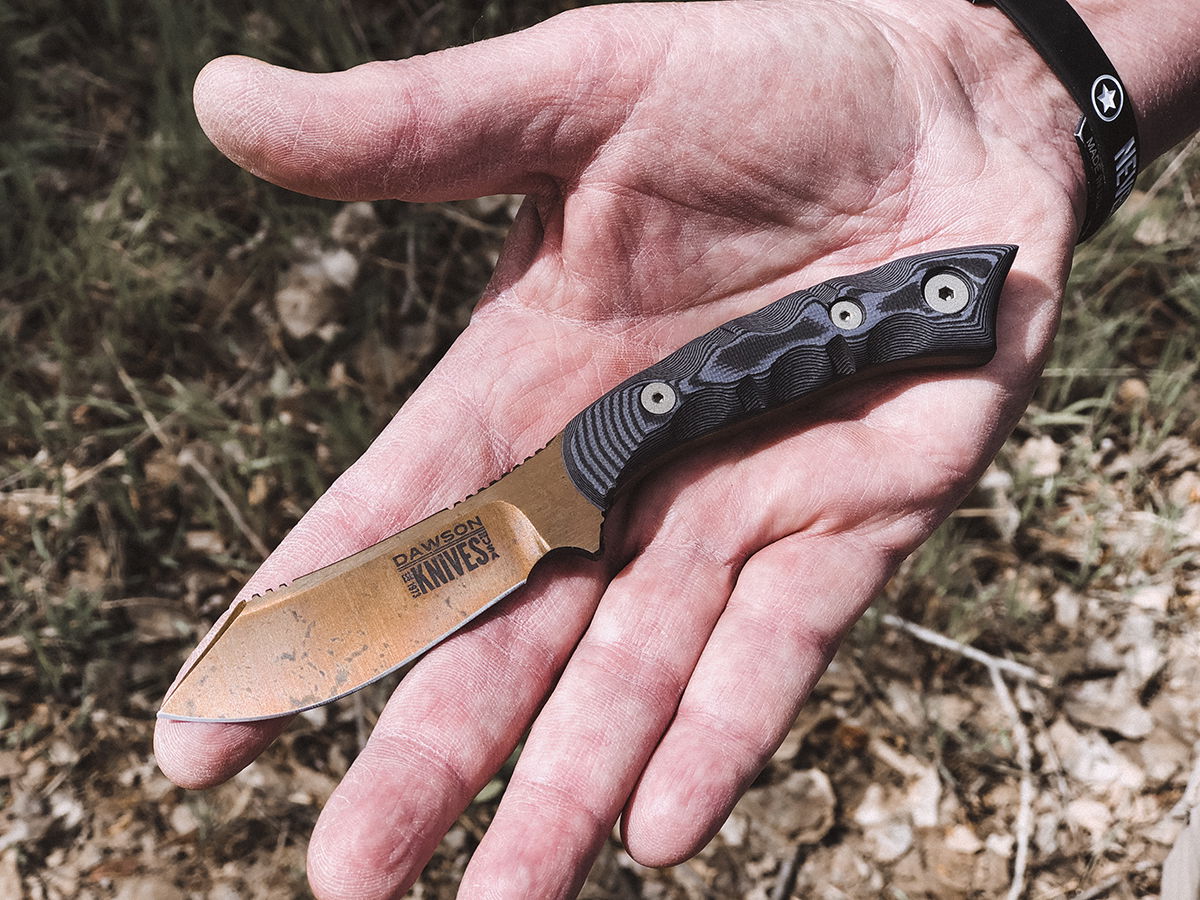 SNAKEBITE
This mean little sidewinder packs a nasty bite in a compact package. The Snakebite's fine point and ample belly are excellent for a variety of everyday tasks, as well as for skinning, caping, and dressing out game.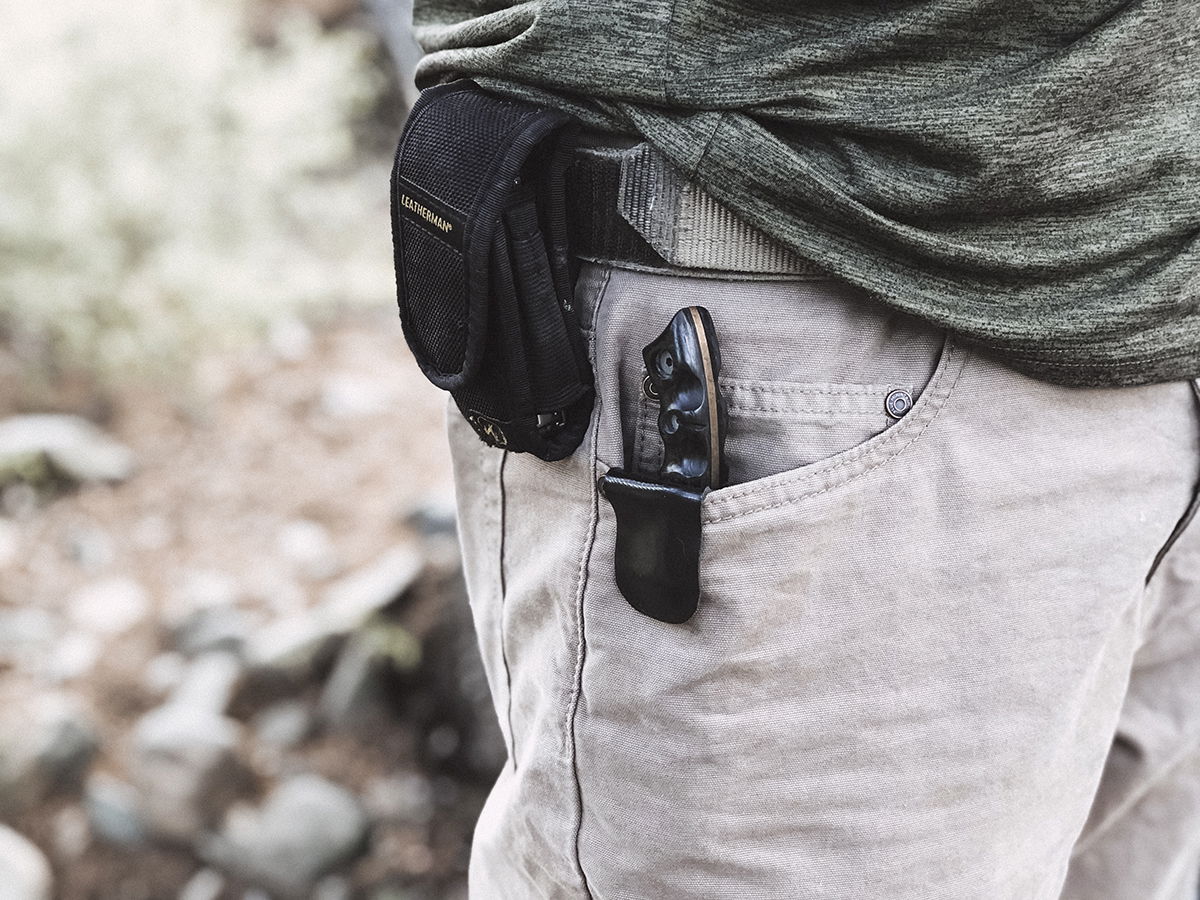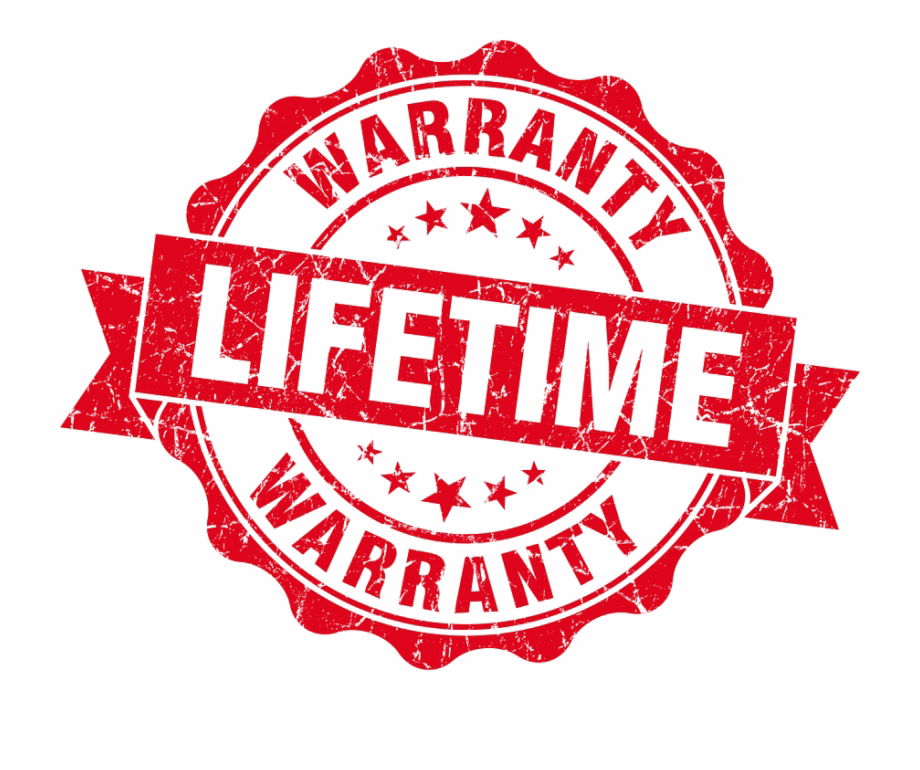 Our family has been handcrafting custom knives and swords for almost 50 years. We've built our reputation on the consistent excellence of our blades.
Full Warranty

FREE SHIPPING IN THE LOWER 48
Your order ships free anywhere in the contiguous United States!
Buy Now
WHAT OUR CUSTOMERS SAY
Hundreds of 5-star reviews
Snakebite = Great Little Knife
"Craftsmanship is excellent.
Extremely comfortable in the hand when using it. Beautiful knife, feels great cuts better.
I love Dawson Knives." --Joe B., Eastchester, US
"I found Dawson Knives online while looking for custom knife makers. The Snakebite blade is a beautiful piece of work! I really like the Kydex pocket sheath too. There will be more Dawson blades in my collection." --Anthony G., Roanoke, US
"I was buying this as a gift to be my wife's first knife. Although at first glance I thought it would be too small it ended up fitting absolutely perfect in her hands and she thinks it's the most beautiful thing ever." --Richard B., Redlands, US
F
SPECS:
100%

 

designed and handcrafted in the USA

.

140"

 

CPM-3V 

American made 

powder steel
Next evolution in blade steel - edge wear 3x longer than D2
100% American made materials
3" blade, 6 3/4" overall
4oz knife only / 6oz including sheath
Heat treated in-house for maximum toughness, durability and edge-holding capability
Rockwell 60-61
Textured

 

G10 handle will not swell, split, warp or crack
Leather/Kydex hybrid sheath with stainless pocket clip, designed for convenient inside-the-pocket carry
Optional sheath attachment for belt carry on belts up to 1 1/4" wide (+$5)
Thumb and finger rests for control and safe handling
Lifetime free resharpen 
Protected by Dawson Knives' Common Sense Guarantee
Description: This mean little sidewinder packs a nasty bite in a compact package. The Snakebite's fine point and ample belly are excellent for a variety of everyday tasks, as well as for skinning, caping, and dressing out game.
Handyman 3v
I got the Handyman 3v to replace my bugout as a hard working edc. The bugout is more of a slicer but I needed something more robust. The Handyman fits the bill nicely. It's well made and has a nice heft to it. I like the screwdriver end. It works perfectly for opening j-boxes at work. The blade is sharp and robust enough to give confidence in its toughness. So far it's been great for opening boxes and cutting straps. I've only touched up the blade a little using fine rods on a sharpmaker. It didn't really need it but I'm not one to let the blade get dull. Overall quality and usefulness I give it 5 stars.
The sheath will take a little getting used to. I use the clip so I can carry inside my front pocket. The curve on the stainless clip is a bit much and catches on my shirt sometimes when I lift my arms. I might try to bend it back a little to see if I can keep it from sticking out so far. I also got the attachment for belt carry but didn't realize it won't fit my 1 1/2" edc belt. The sheath itself holds the knife secure as long as it's fully seated. If not it'll rattle a bit. 4 stars for the sheath.
Awesome knives
Dawson knives are the best I really wish they would do more of a Berry Dawson style from the 80's but they still do an amazing job
Love it
I love this smaller knife. It's so pretty to be such a strong fixed blade. I've already used it and it is as advertised. My awesome father always said every man (and woman) needs a good knife. Now I have two.
Top quality knives
I have several Dawson knives and love each one. They are true works of art and craftsmanship. My most recent purchase is the snakebite and it is a cool and functional knife. Whether it is for every day carry, ranching or guiding big game hunters, I choose Dawson knives.
Amazing blades with unique and comfortable handles.
Excellent knife, amazing customer service
The knife is a great little pocket fixed blade. It arrived sharp, and it's somehow obviously tough without being excessive. The pocket sheath works well, and you can put the knife in either way, which is nice for lefties. The sheath is a bit wider than most pocket fixed blades, but that shouldn't be a problem if you don't have much else in the pocket with it.
Aside from the knife, the customer service is amazing. There were a couple of little points of confusion in my order (not real problems, just one or two little things), and their team told me quickly and gave me options about how to respond.
Overall its a great knife and a great company to work with.
Snakebite Magnacut
Thank you Dawson family for this incredible knife. This might be the best value of any knife I've bought, and I've bought a lot of them through the years. This knife is a beauty to look at and the craftsmanship is top notch. I've found three very useful positions to hold this little guy and it feels well designed to fit the hand. I love to edc, which is not always the easiest to do with a fixed blade but this knife fits well in the front pocket. The sheath that comes with the Snakebite is quality through and through, a nice surprise at this price point. I am extremely satisfied with my Dawson knives purchase and look forward to many years of use out of this incredible knife.