Serengeti | CPM-3V Steel | Specter Finish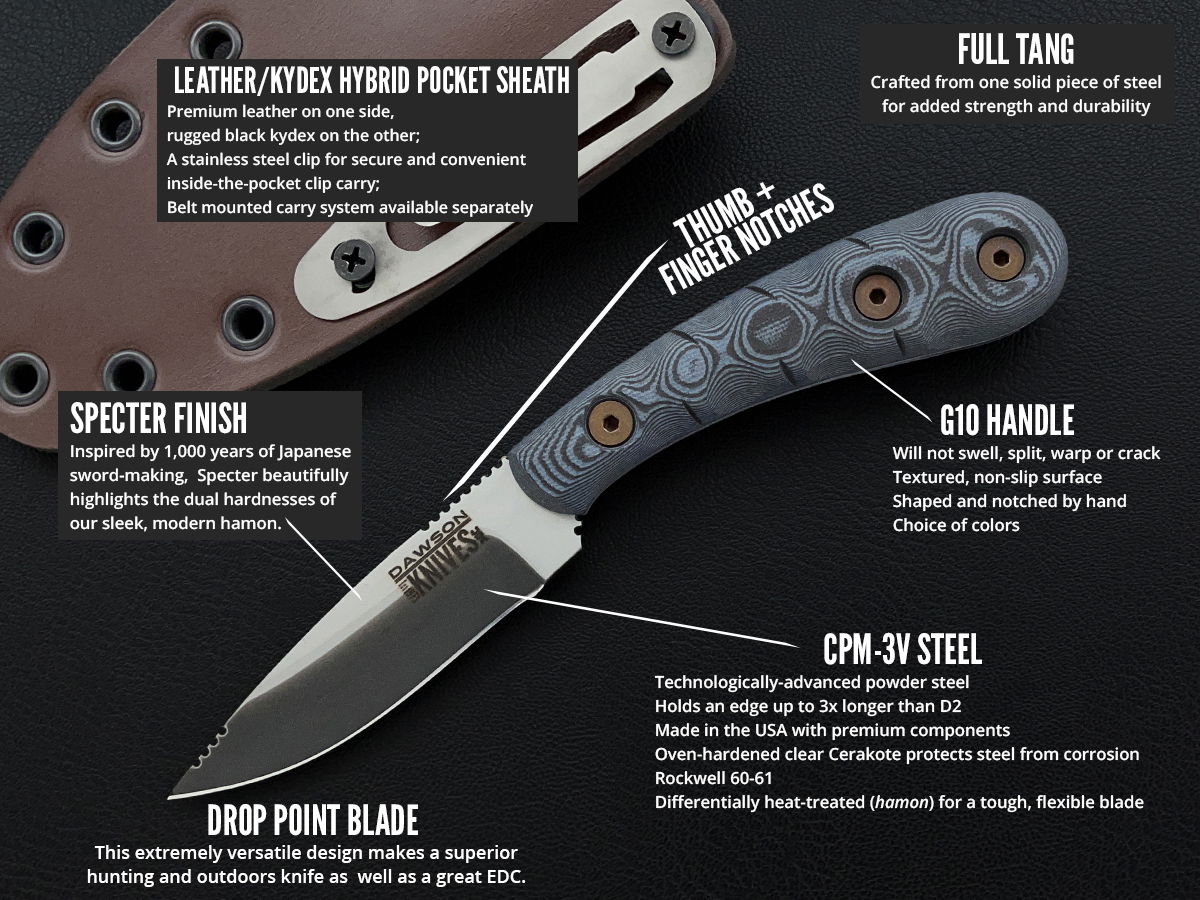 SPECS
100% designed and handcrafted in the USA
.140" CPM-3V American made powder steel
Next evolution in blade steel - edge wear 3x longer than D2
100% American made materials
3 1/4" blade, 7 1/4" overall
4oz knife only / 6oz including sheath
Heat treated in-house for maximum toughness, durability and edge-holding capability
Rockwell 60-61
Balanced as a superior chopper and camp knife
Beautiful two-toned Specter finish
Textured G10 handle will not swell, split, warp or crack
Industry-leading clear Cerakote© finish protects your blade from corrosion
NEW leather/Kydex hybrid sheath with stainless pocket clip, designed for convenient inside-the-pocket carry
Optional sheath attachment for belt carry on belts up to 1 1/4" wide (+$5)
Thumb and finger rests for control and safe handling
Lifetime free resharpen
Protected by Dawson Knives' Common Sense Guarantee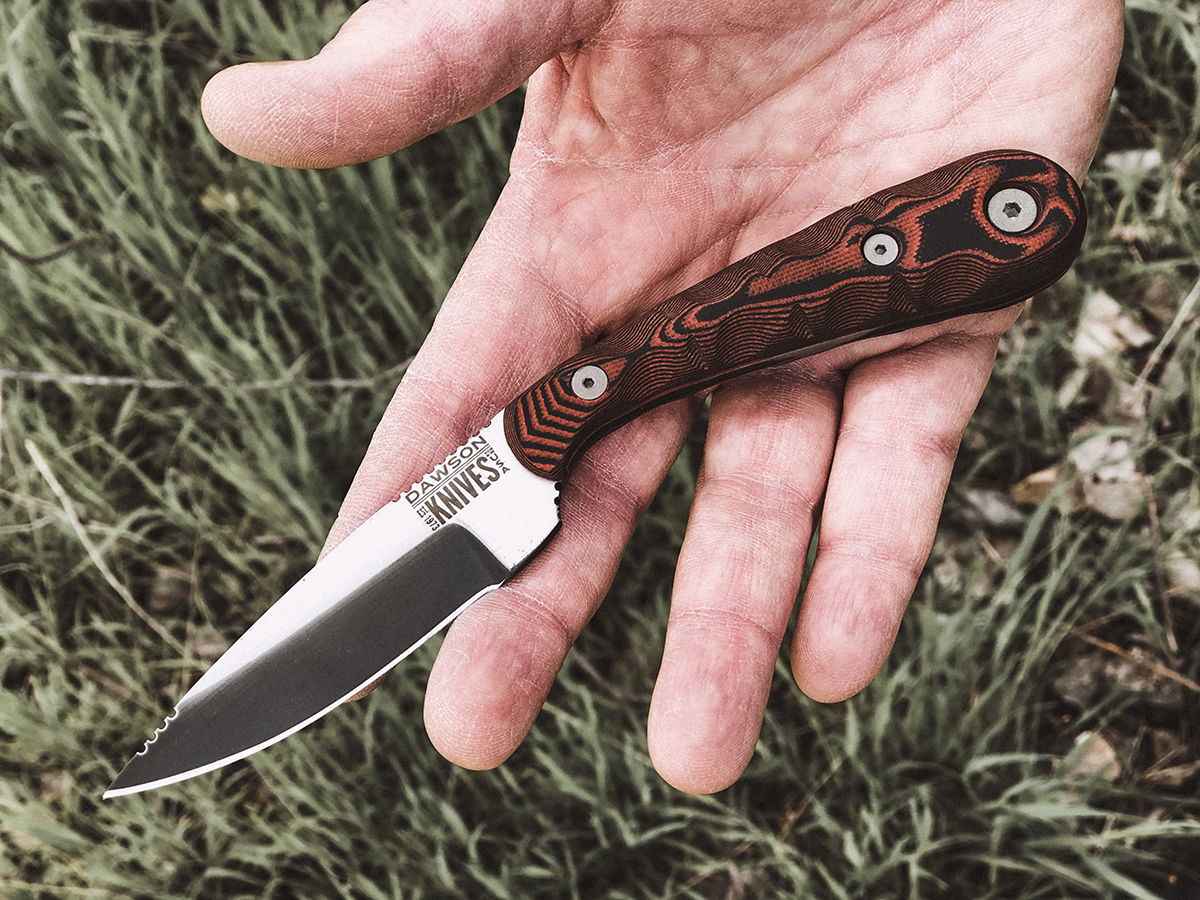 SERENGETI
The Serengeti is a classic drop point blade, one of the most versatile, all-purpose blade styles available. It's also perfect for everyday carry.

The blade is ground to a razor sharp edge with a fine point for precise entry cuts. A shaped-by-hand palm style handle acts as a counter balance to the blade, resting comfortably and securely in your palm. Thumb and finger rests are filed on the spine and inside the finger notch for safe handling.

The Serengeti also comes with a custom-fitted black Kydex pocket sheath designed to be worn inside a pants or coat pocket.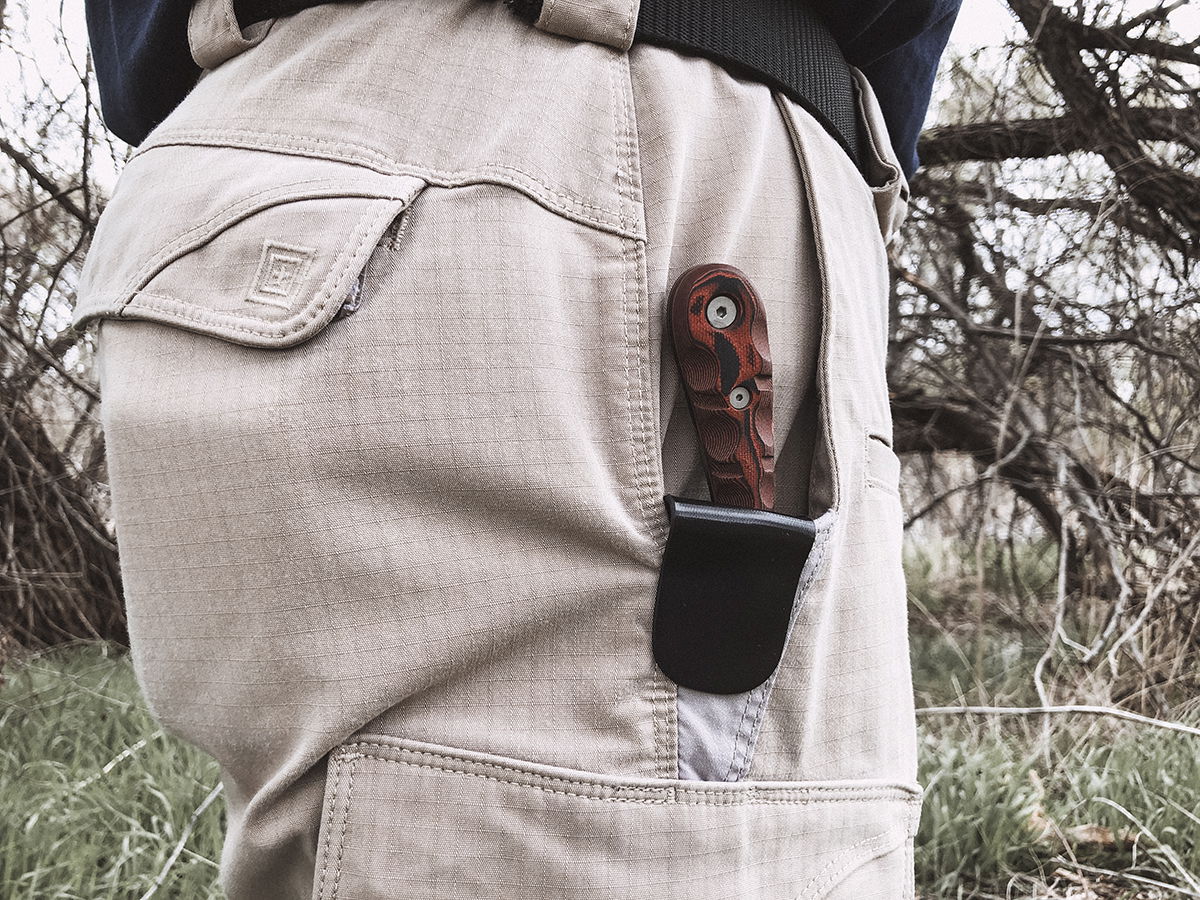 Specs
100%

 

designed and handcrafted in the USA

140"

 CPM-3V American made

 

powder steel
Next evolution in blade steel - edge wear 3x longer than D2
100%

 

American made materials
3 1/4" blade, 7 1/4" overall
4oz knife only / 6oz including sheath
Heat treated in-house for maximum toughness, durability and edge-holding capability
Rockwell 60-61
Specter Finish
Textured

 

G10 handle will not swell, split, warp or crack
All-weather black

 

Kydex©

 

sheath, designed for convenient

 

inside-the-pocket

 

carry
Thumb and finger rests for control and safe handling
Lifetime free resharpen 
Protected by Dawson Knives' Common Sense Guarantee
es:
Greatest knives ever
Absolutely terrific knives. Worth every penny
Very Nice
This fits in my pocket perfect. It's never in the way as I move around. The sheath and knife fit perfect and very high quality. I'm happy with my purchase.
Serengeti
I wanted something in more of a traditional finish but you don't have much of a choice right now. That being said I'm so glad I got this Arizona copper finish its awesome I love it when I buy another knife from Dawson it will be in Arizona copper also. This knife is EDC for me I Cary it in a cargo pocket and don't notice it at all. The handle fits my hand well I have large hands with thin fingers glove size XL. My girlfriend said she liked how it felt in her small hands not sure how that works but it's what she said. I like the attention to detail that has been put into this blade it's satisfying to see my money was well spent in a quality American made knife that will out last me easily. Icing on the cake, Dawson is a Christian company.
Mike Adams recommended
I bought two of your knives. They are above spectacular. Beautifully made, The knives and their sheaths. I gave one to my boyfriend. He loves it. I kind of want to put mine in a shadow box and hang it on the wall. Yes, they are that pretty! I'm sure I will purchase others when you restock.
Great Product
I am very satisfied with the quality and craftsmanship that is evident in this knife. I am happy to be able to support an American company that makes great products! I look forward to future purchases with Dawson Knives.