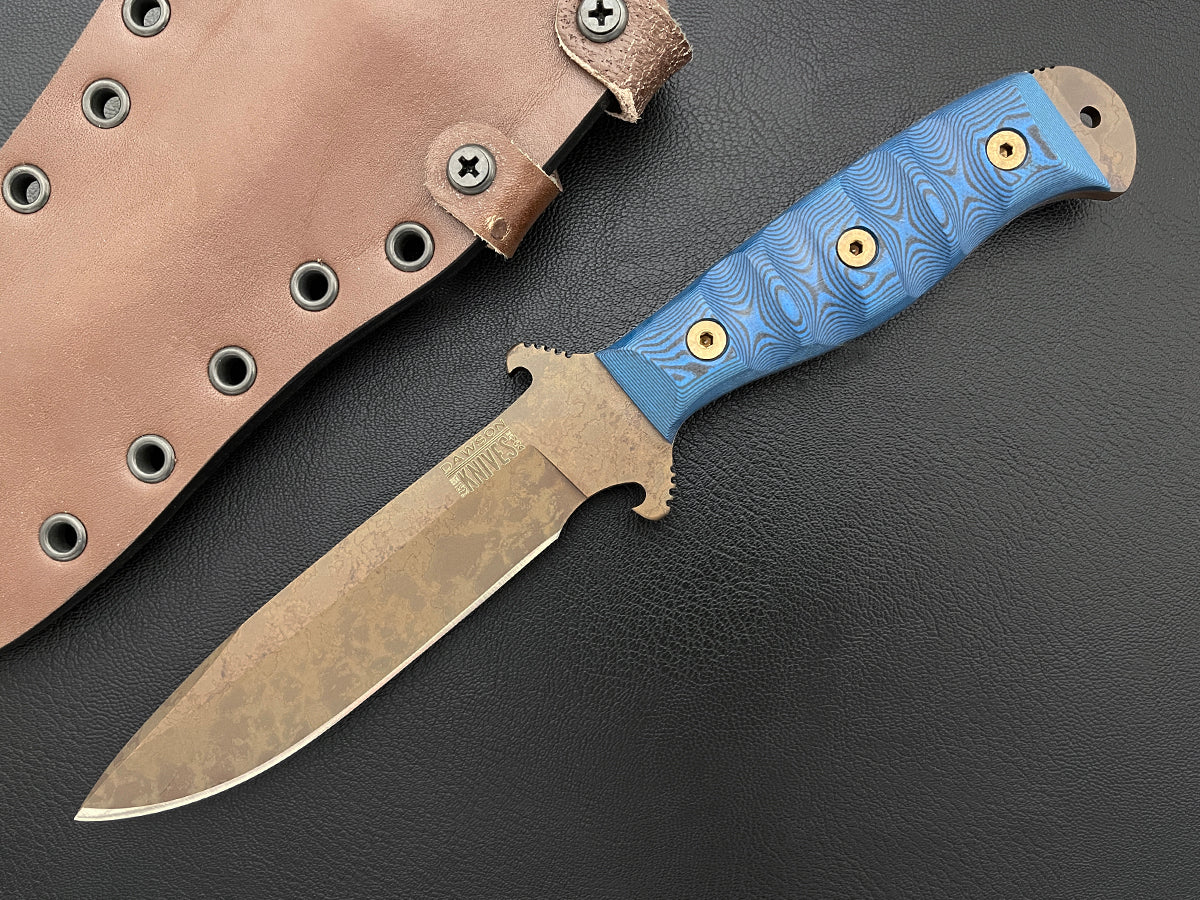 Raider 5 | CPM MagnaCut Stainless Steel | NEW Scorched Earth Finish
HANDLE COLOR:
BLUE + BLACK G10
In stock
SPECS:
NEW!

 

Scorched Earth blade finish - rich dark bronze with a darker earth camouflage pattern
100% designed and handcrafted in the USA

NEW

.210" CPM MagnaCut American made stainless

 

powder steel
Next evolution in blade steel - edge wear 2x longer than CPM-3V
100%

 

American made materials
5.5" blade,

 

approximately

 

10 3/8" overall
11oz knife only / 14oz including sheath
Heat treated in-house for maximum toughness, durability and edge-holding capability
Rockwell

 

60-61
Choice of

 

handle colors
Deep finger choil, thumb ramp allow improved control
Textured

 

G10 handle

 

will not swell, split, warp or crack
NOW AVAILABLE:

 

Space-grade black

 

Carbon Fiber

 

handle

Custom fitted

 

Leather + Kydex sheath

 

for carry on belt or backpack
Thumb and finger rests for control and safe handling
Lifetime free resharpen
Protected by Dawson Knives'

 

Common Sense Guarantee
All Purpose Knife
The Dawson Raider 5 is my new "go to" do everything knife. I keep it my backpack at all times. It hasn't let me down yet. From cutting rope, to batoning wood for a camp fire, to cutting meat for dinner, it does it effortlessly, and is still sharp. I now have five Dawon knives and use them all with great satisfaction. Great people to deal with, I'm sure there will be more Dawson knives in my future. Thanks for a great product!
Been looking for a good fixed blade in Magnacut
I had never heard of Dawson knives. Saw my first one on a Knife center "New this week" YouTube video. It looked very nice and it appeared to be very high quality. They did not mention the price in their video like they usually do. So I went to their online store and they had many Dawsons. They were not cheap but they had one I liked and had the size I needed, the 7 " Farrier. So I spent a day researching Dawson and their knives and they were well respected for top quality semi customs knives and swords;; So I went to their website and they no longer made the Farrier. And did not at the time I looked have any 7 to 8" knives in types that I was looking for. So I Iooked at some other places for a better price then Knife Center. Other places had the same price and even eBay was selling a few older Dawson knives for about the same price used and sometimes a little more than retail. So I went back to Knife Center asked my wife which color she liked best for the knife she said she liked the Scorched Earth with the Ultrex camo handle so I got that ordered for myself. Then my wife said she really liked these knives too. Looking on the Dawson site she saw the 5 1/2 " Raider she Liked best. Knife Center did not have a matching blade and handle like the one I got but Dawson did in their Vault. So I did not tell her and got the one Dawson had that she wanted ordered. Dawson was so prompt that I got my wife's knife almost a week before the Farrier arived. I ordered hers two days after mine. My interaction with Dawson was delightful. I dealt with Jean there. I had lots of technical questions and she got them all answered from people there who knew those answers. I can't thank her enough. My wife has had her Raider for almost two weeks and I got my Farrier almost a week ago. Both with matching blade finishes and handle color.
This weekend my wife and I and Daughter and granddaughter went on a day trip picnic and we made sandwiches with our knives. Thin slicing Turkey and ham for the sandwiches spreading Mayo slicing cheese off blocks of manchego and cheddar
They work very well with their hollow ground edge for food prep. We both really liked the performance of these blades for food prep. I know that is really light work for such knives. But survival knives should be good at a lot of things and that is one of them. We have lots more to test them with that will be much more challenging for these knives. For the toughest work we use axe and saw and our Condor Villiage Parang in 420HC. The Parang is Very high toughness stainless steel that we use for moderate wood processing. The Dawsons will be kept razor sharp and used for work appropriate for their steel and heat treat. Light chopping, light battoning for kindling, insitue cordage prep and splitting and other camp work appropriate to a fine edge. Of course if we find ourselves in an actual survival circumstance They may see very tough use, but that is what it is for. Many well respected "survival knives " are made of 1095. Meagnacut is far tougher and holds an edge far longer than 1095 and much more corrosion resistant especially with a clear CeriKote over the "Scorches Earth " finish ,so I am sure these will acquit themselves quite well in most any survival circumstance. Thanks Jean for the help! So far we love these knives and will keep an eye out for other Dawsons we might use.
Tony's Raider 5
Remarkable craftsmanship, I would recommend Dawson knives to anyone
Super high quality
Quality, workmanship and durability of the knife was well above my expectations. Beautifully made item that has a myriad of uses including ranch work, camping and survival
Fit finish and blance
Very well balanced blade fits great in my small hand for a guy so I very happy with the product. My first knife great also but handle was to long but since it had a forward notch I would hold behind the notch or for better control cutting and slicing meat at the notch. The Raider 5 is now for camping on my belt and the old one is back-up on my backpack. The copper finish is appealing to my eye.
Raider 5 | CPM MagnaCut Stainless Steel | Arizona Copper Finish