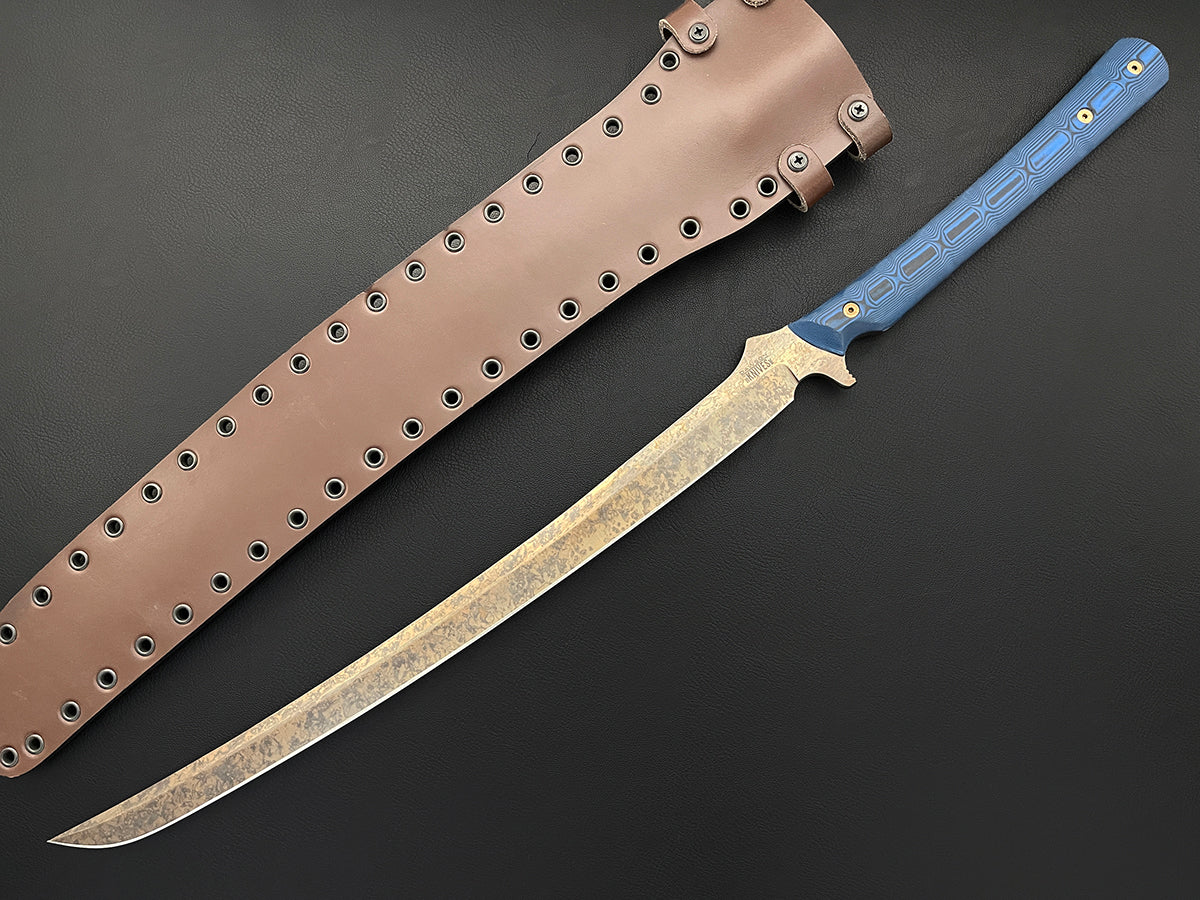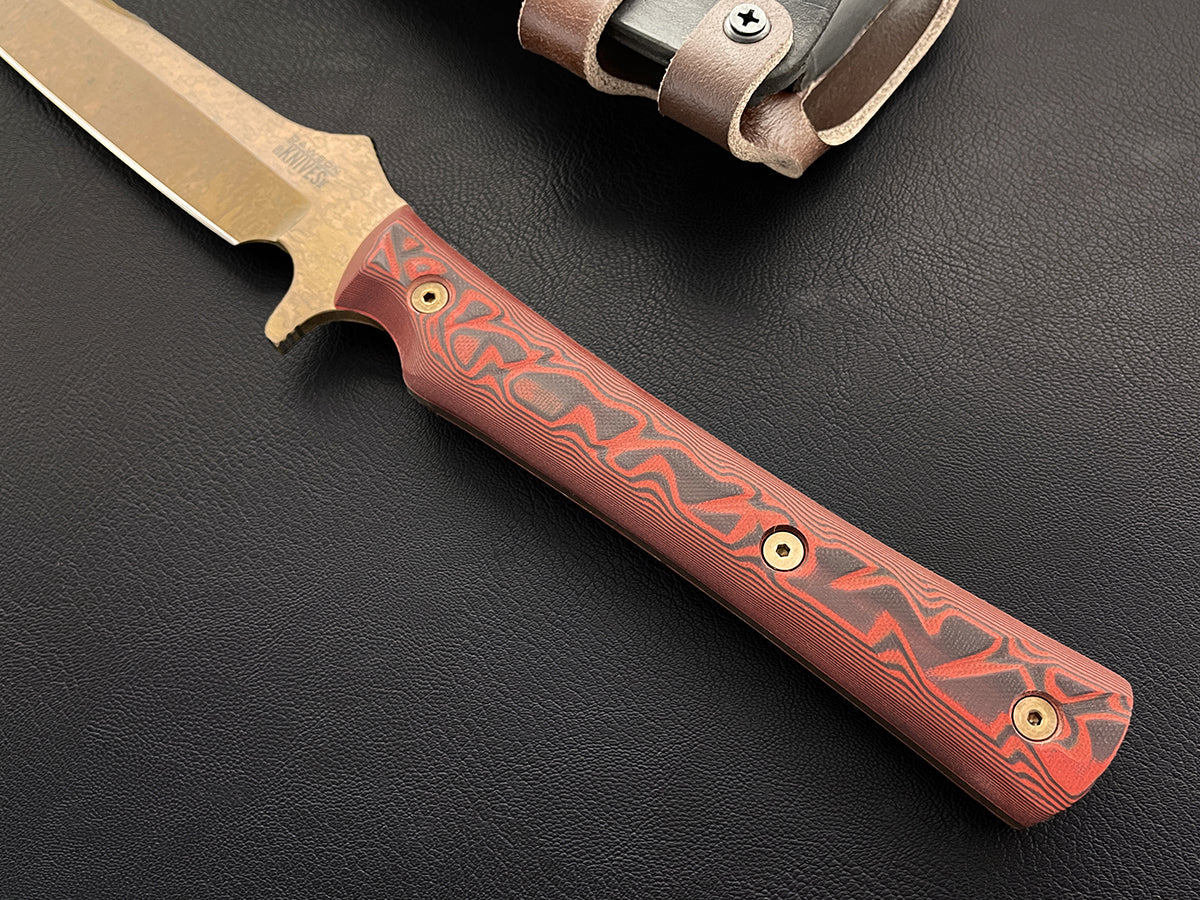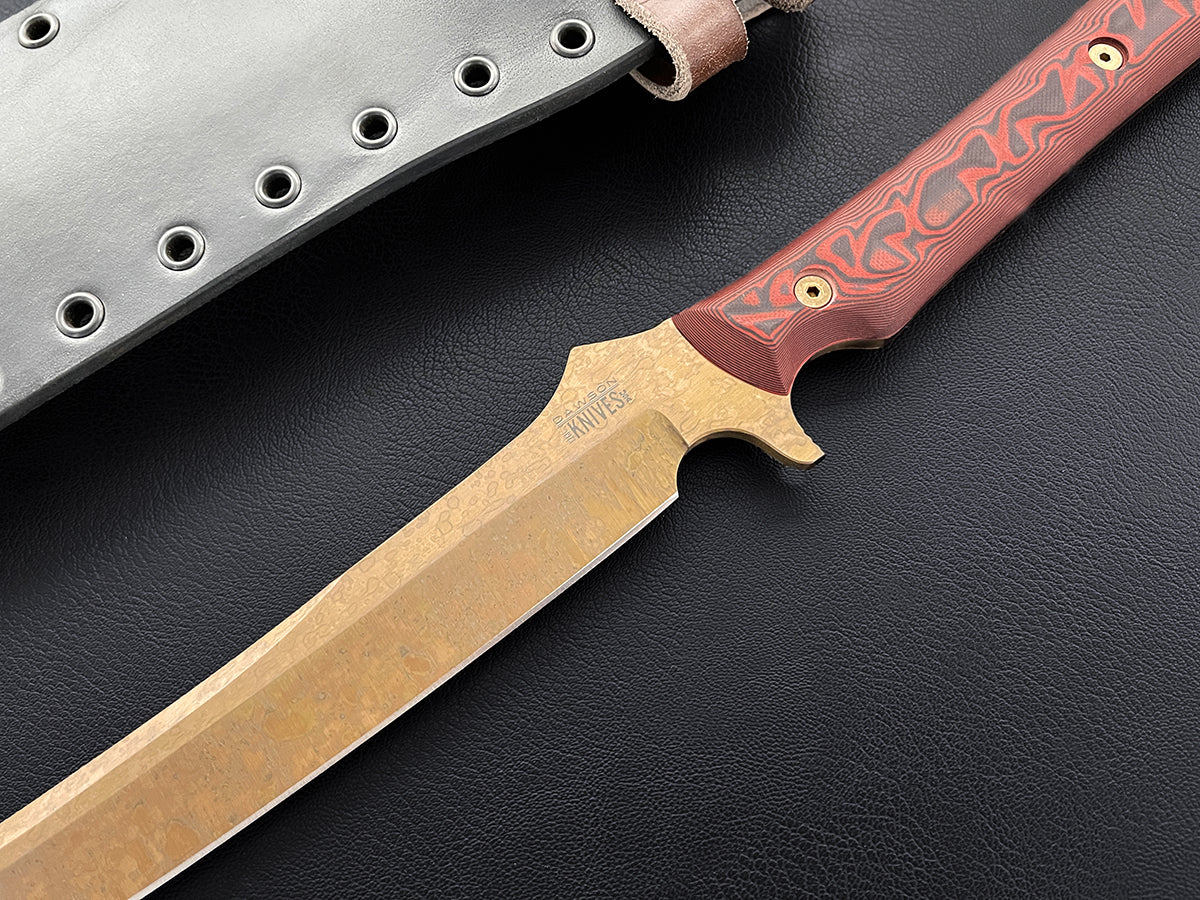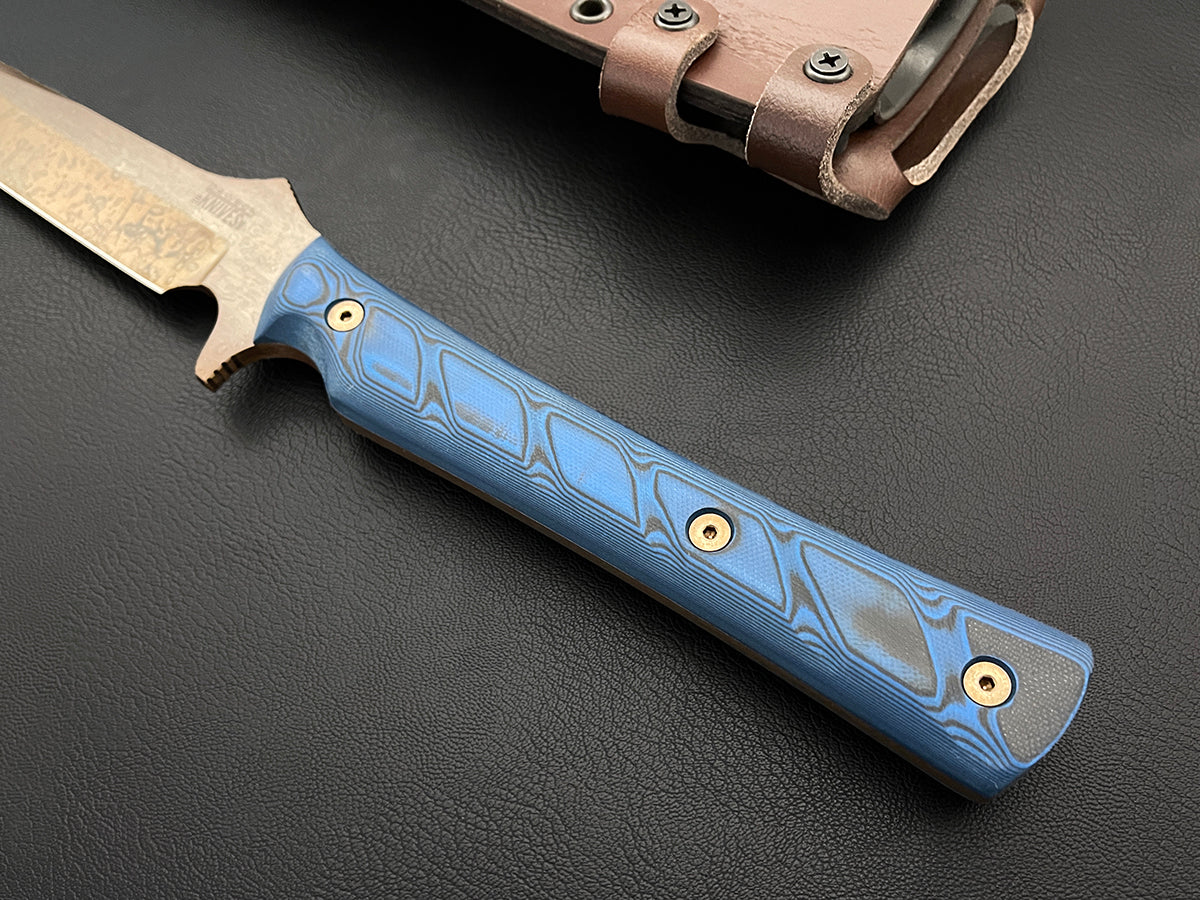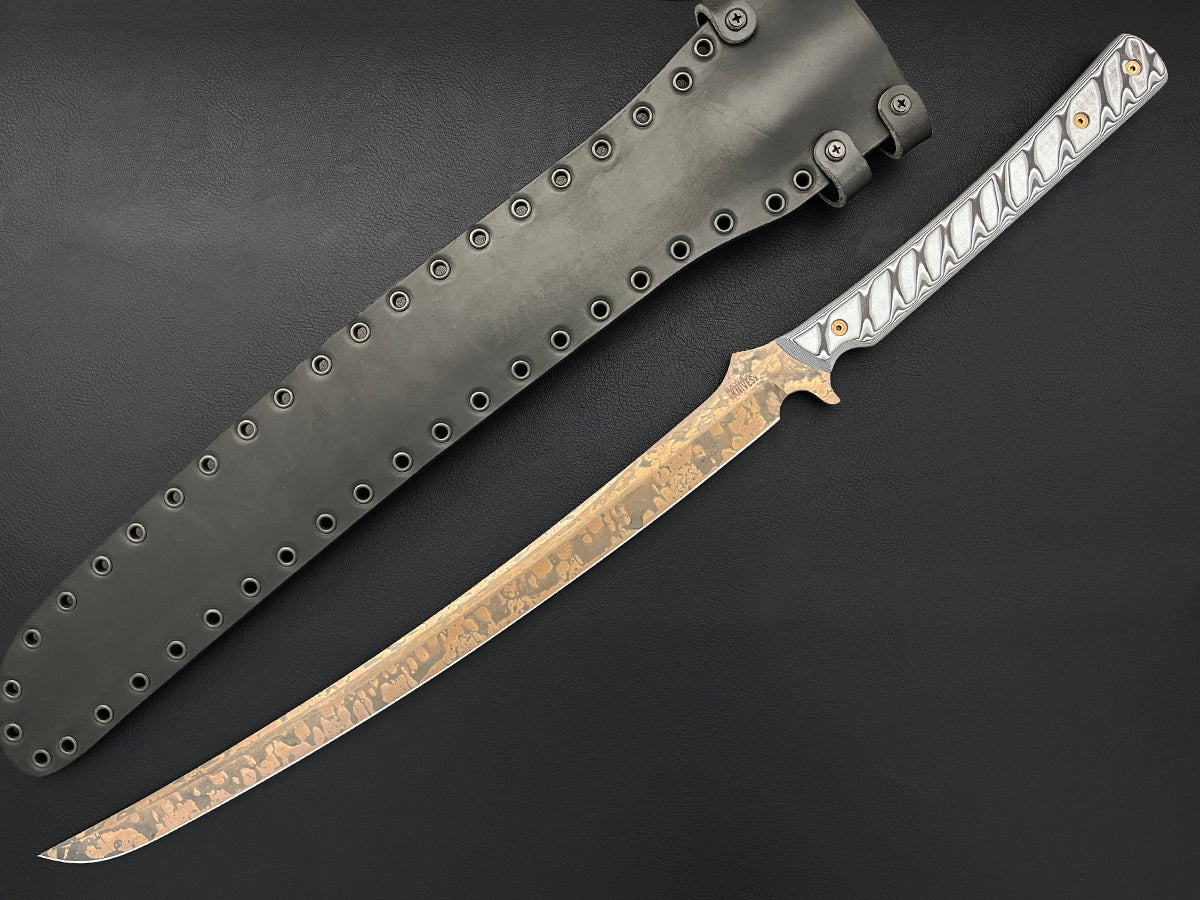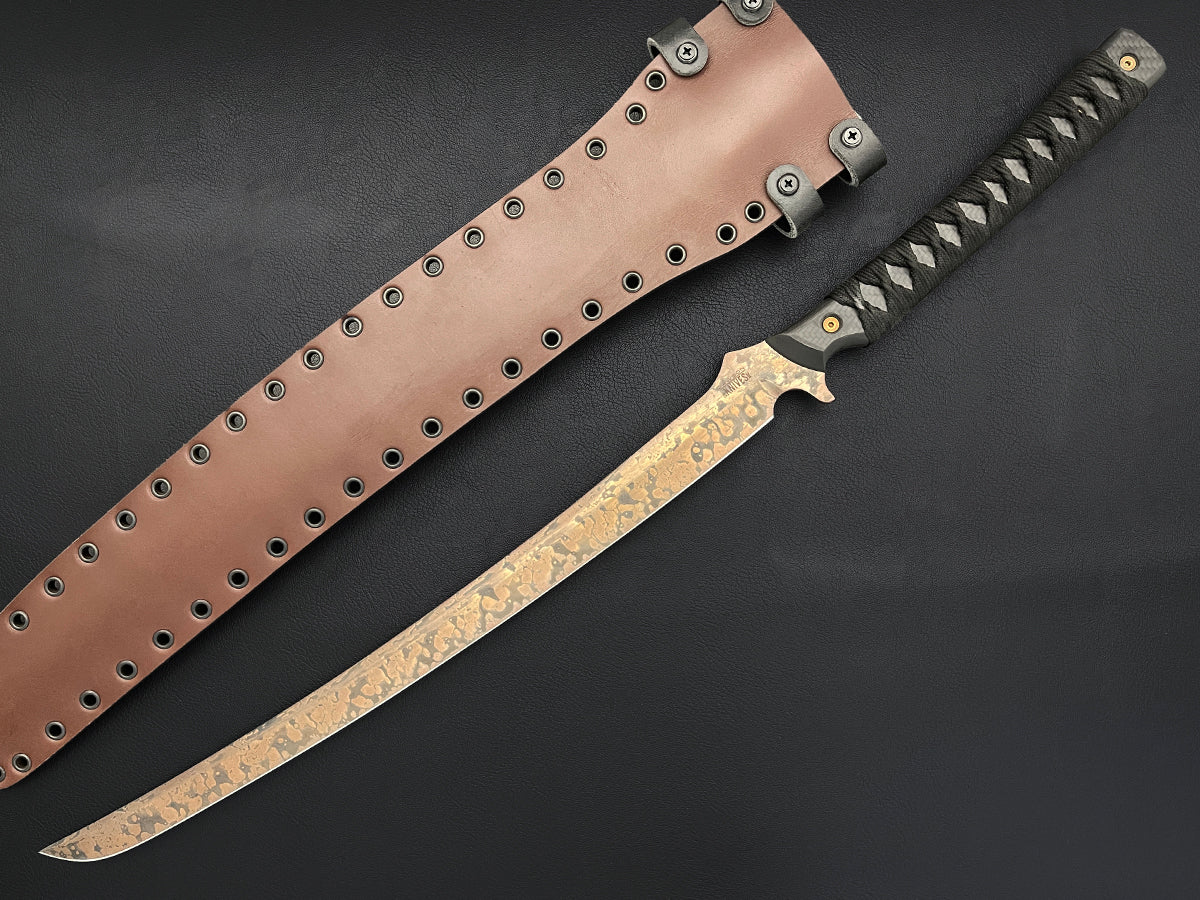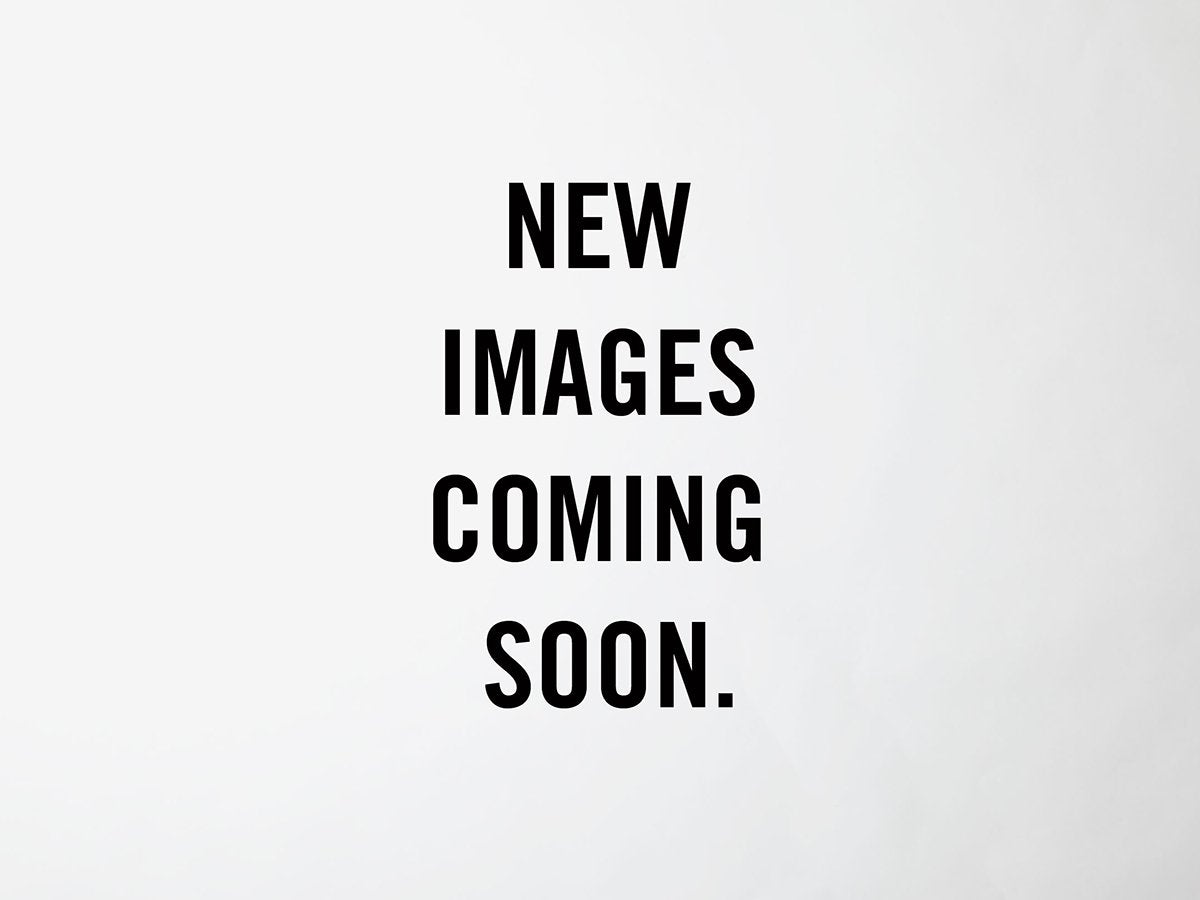 Relentless Sword 17" | CPM-MagnaCut Steel | Arizona Copper Finish
HANDLE COLOR:
RED + BLACK G10 (NO WRAP)
100% designed and handcrafted in the USA

NEW

 

.210" CPM MagnaCut American made

 

stainless

 

powder steel
Next evolution in blade steel - edge wear

 

2x longer

 

than

 

CPM-3V
100%

 

American made materials
Heat treated in-house for maximum toughness, durability and edge-holding capability
Clear, baked-on Cerakote© layer for added

 

protection against staining and corrosion
17" blade, 26" overall

Rockwell

 61

-62
Textured G10 handle will not swell, split, warp or crack
Top bevel for balance and speed

Custom Kydex / Leather Hybrid fitted sheath
Lifetime free resharpen included
Protected by Dawson Knives' Common Sense Guarantee
Description: This modern samurai-style sword features a full length top bevel that strips away excess weight, revealing a lean, hungry beast with a nasty attitude and plenty of teeth. Forward thumb ramp, integral hand guard and Japanese interlocking wrap in synthetic silk.
I still have not received it
Hi Yves, I show your order was delivered on 11/21/23. If you don't have it, please reach out to us at info@dawsonknives.com so we can assist you further!
Beautiful!!
I have never purchased a "sword" before but the workmanship looks great. Very sharp blade. It feels comfortable in my hand. Not too heavy and good balance. Thank you so much.
NEW Relentless 20" | NEW Apocalypse Black Finish | CPM MagnaCut Steel
Perfecto
The best sword before I get one from Dawson again.
23" Relentless Sword
I have bought 9 various knives, swords and machetes from Dawson that are beautifully crafted which I bought for the real and practical uses of the blade for the outdoors and in self defense, so read the reviews, because I would be repeating all the great reviews from everyone that bought a Dawson !
Amazing!
This sword is simply amazing. It is super sharp, shaped beautifully, and perfectly balanced. So far, I have purchased 4 swords and 4 knives from DawsonKnives. The quality of the materials and the craftsmanship is unmatched. I highly recommend.