Mojave 7 | CPM-3V Steel | Specter Finish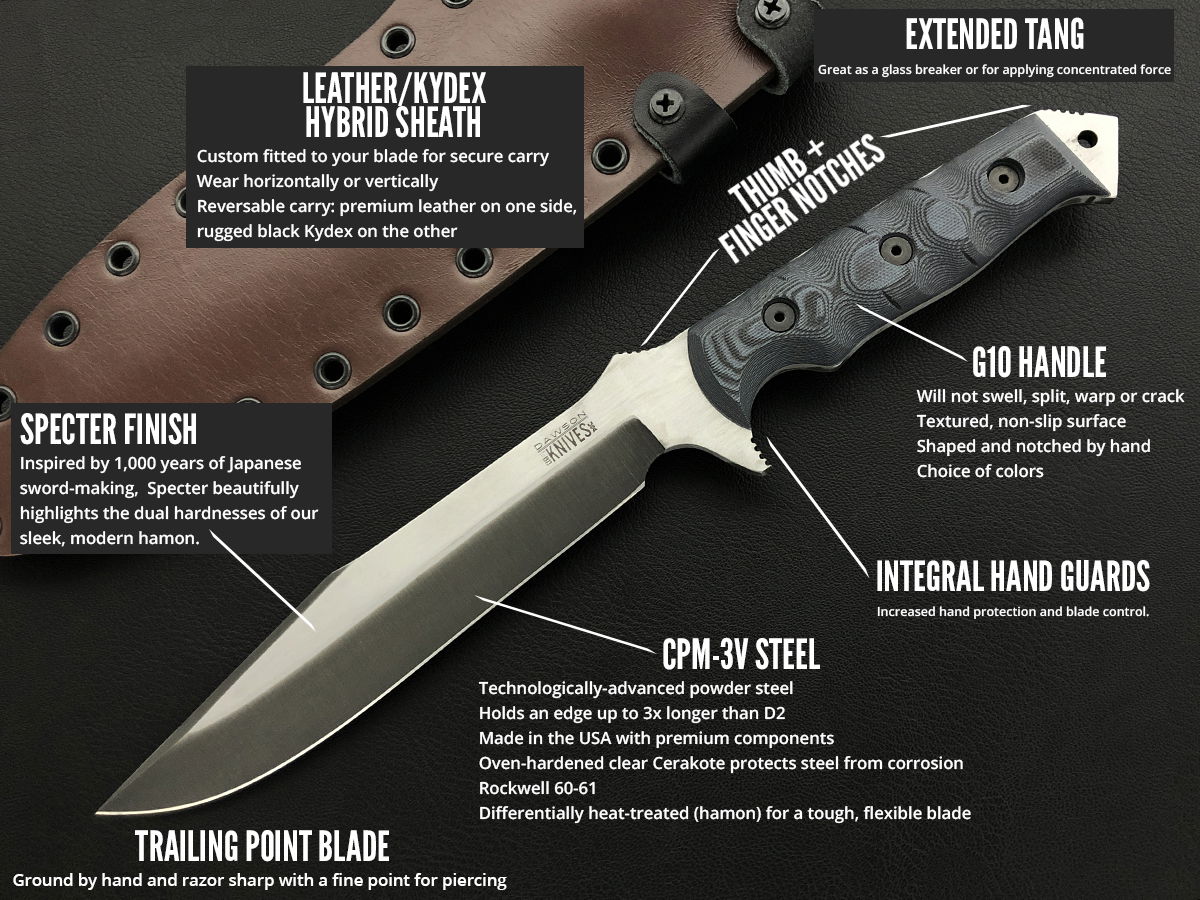 100% designed and handcrafted in the USA
.210" CPM-3V American made powder steel
Next evolution in blade steel - Edge wear 3x longer than D2
100% American made materials
7" blade, 12 5/8 overall
13oz knife only / 19oz including sheath
Heat treated in-house for maximum toughness, durability and edge-holding capability
Rockwell 60-61
Great for camping, slicing and light chopping

Beautiful two-toned

Specter

 finish

Industry-leading clear Cerakote© finish protects your blade from corrosion
Textured G10 handle will not swell, split, warp or crack
Custom fitted Leather + Kydex sheath for carry on belt or backpack 
Thumb and finger rests for control and safe handling
Lifetime free resharpen 
Protected by Dawson Knives' Common Sense Guarantee
Description: The Mojave will stick by you when the going gets tough. Sleek and well-balanced, this modern clip point field knife is honed to 3,000 grit fineness and ready to work.
Simply Amazing
I am completely blown away by quality and craftsmanship of this knife. I've never even had anything close to this amazing of a knife. It's no wonder this particular knife has 57 5 star reviews with zero other review ratings. These ratings were earned through ingenuity and hard painful intelligent work and not by rigging stats.
I will cherish this knife for the rest of my life as long as I don't lose it or it gets stolen. Thank you Dawson Knives!
Great American Company
I purchased the New Mojave 7 from Dawson Knives with high expectations and they've all been met !
Read the reviews they're all true 👍🏼
Quality Product + Top notch customer service = AAA+ Company.
When you get a Dawson knife you get the best of made in America. Thank you
First and won't be the last
Wow wee was this blade is amazing love the edge shaved my arm easily to test the edge AMAZING! Copper finish is beautiful! Handle feels amazing! Best knife I have ever ordered! Thanks Mike Adams for recommending them! Will get more from them when available! Can't wait to stress this steel! See what it is made of in the field.
Top quality knife a little top heavy
One of the best knives I have bought from you, fantastic job! I want another!
Quality Knife
I was just looking over my new Dawson knife and what a knife! This knife put my other knives to shame. I know this knife will hold up to what I may inflict on it.