Helmsman Sword 14" | CPM-3V Steel | Specter Finish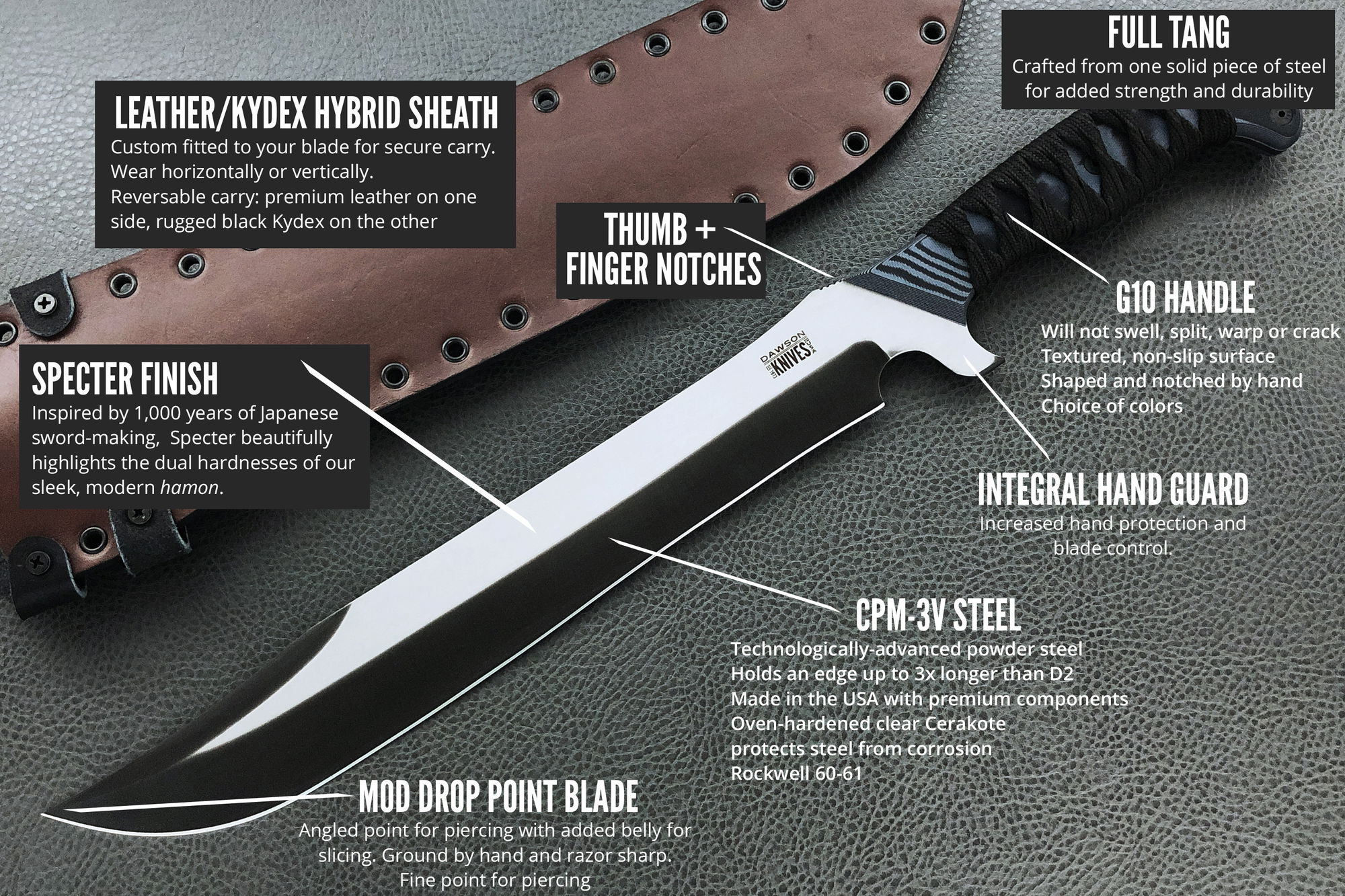 100% designed and handcrafted in the USA
.210" CPM-3V American made powder steel
Next evolution in blade steel - edge wear 3x longer than D2
100% American made materials
Heat treated in-house for maximum toughness, durability and edge-holding capability
Beautiful two-toned Specter finish
Industry-leading clear Cerakote© finish protects your blade from corrosion

T

extured

 

G10 handle

 

that will not swell, split, warp or crack
Authentic Japanese interlocking wrap in black synthetic silk
Top bevel for balance and speed
Custom Kydex / Leather Hybrid fitted sheath
Lifetime free resharpen included
Protected by Dawson Knives' Common Sense Guarantee
 Blade: 14"
Overall: 20 1/2"
Awesome
I wanted a katana ended up with the Helmsman. I love it even more!
Helmsman dilemma.
I have wanted this knife for easily years. Now that I have it I couldn't be more thrilled with the craftsmanship. Every inch is perfect, balanced, and impeccable. My only problem is I'm afraid to ever use it. Obviously I'm not getting into any real life sword fights (haha nice) but I'm afraid to damage the finish. For now it's a show piece, and that's good with me.
Absolutely amazing
Great work team Dawson! Such a fun piece. I am very happy with the quality and finish. Thank you
David, thanks for your awesome review! Love the picture. :) Thanks for sharing.
Amazing company to do buisness with and believe me I'm not the easiest customer to deal with deffinetly above and beyond great service great products!!
new addition to my survival kit .
have not used it yet but the weight and feel of it tells me it will be very useful on long hunting trips and a great addition to my
survival kit. thanks for the great work and see you all soon Rosie
CPM-3V 14" Helmsman Sword | Arizona Copper Finish
Hi, very happy whit my new knife. A dream come true.
Thanks
Steve