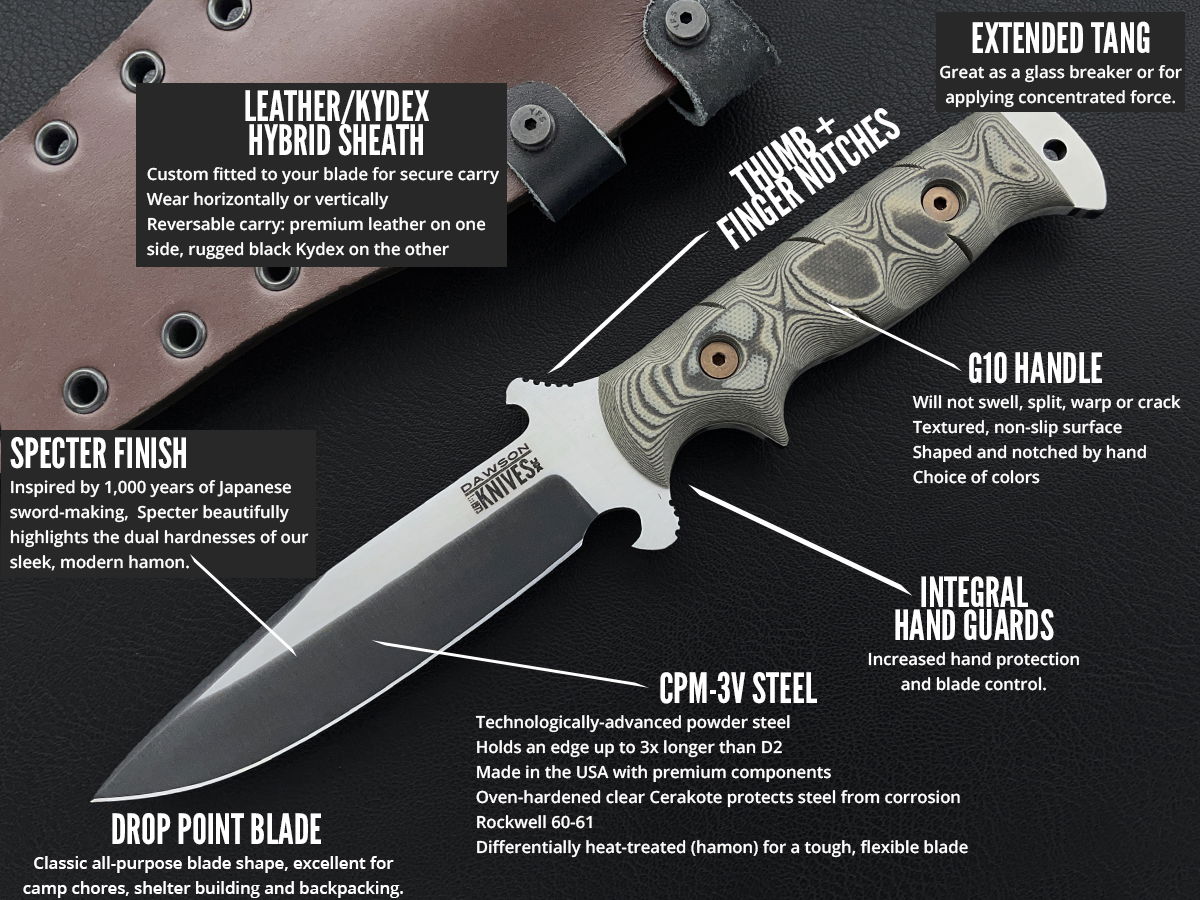 SPECS
100% designed and handcrafted in the USA
.210" CPM-3V American made powder steel
Next evolution in blade steel - edge wear 3x longer than D2
100% American made materials
5 1/4" blade, 9 3/4" overall
10oz knife only / 14oz including sheath
Heat treated in-house for maximum toughness, durability and edge-holding capability
Rockwell 60-61
Industry-leading clear Cerakote© finish protects your blade from corrosion
Balanced as a superior chopper and camp knife
Textured G10 handle will not swell, split, warp or crack
Custom fitted Leather + Kydex sheath for carry on belt or backpack
Thumb and finger rests for control and safe handling
Lifetime free resharpen
Protected by Dawson Knives' Common Sense Guarantee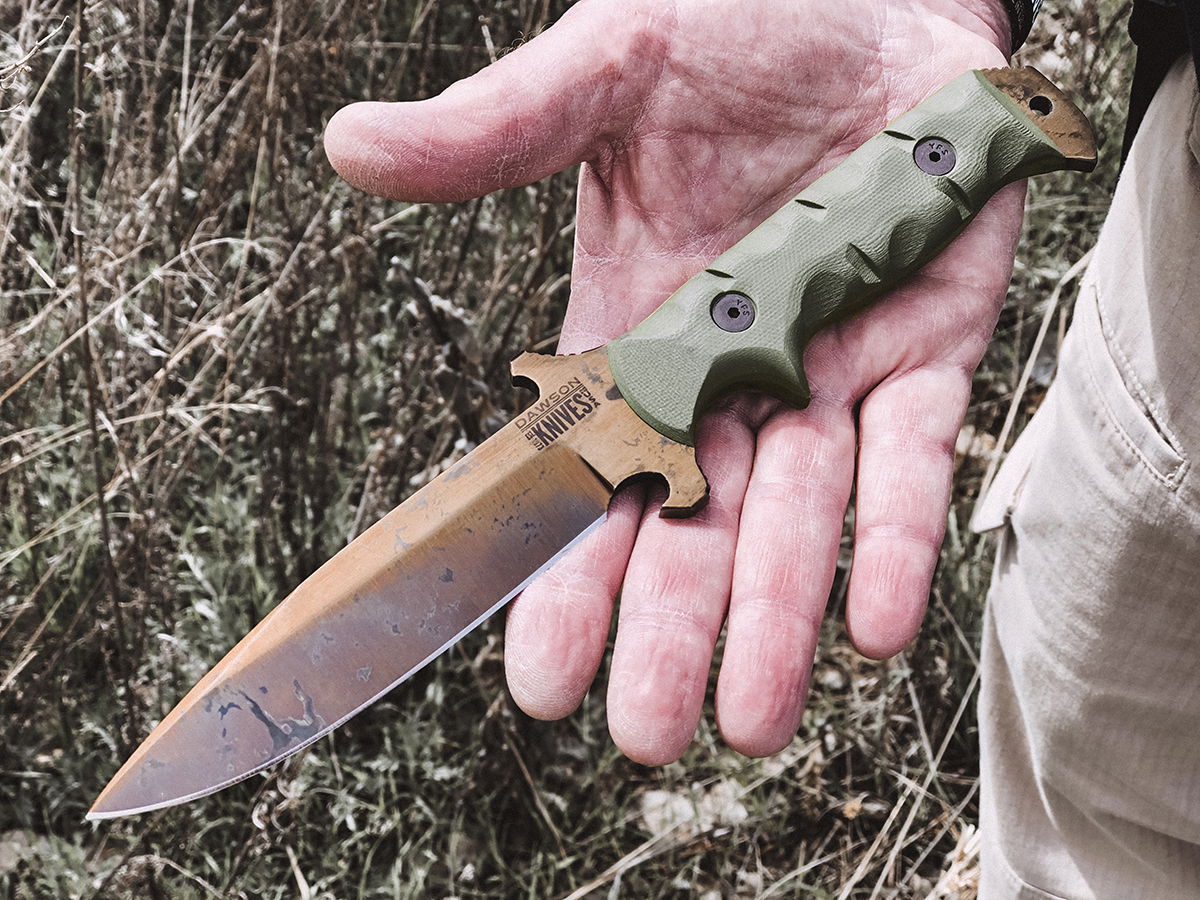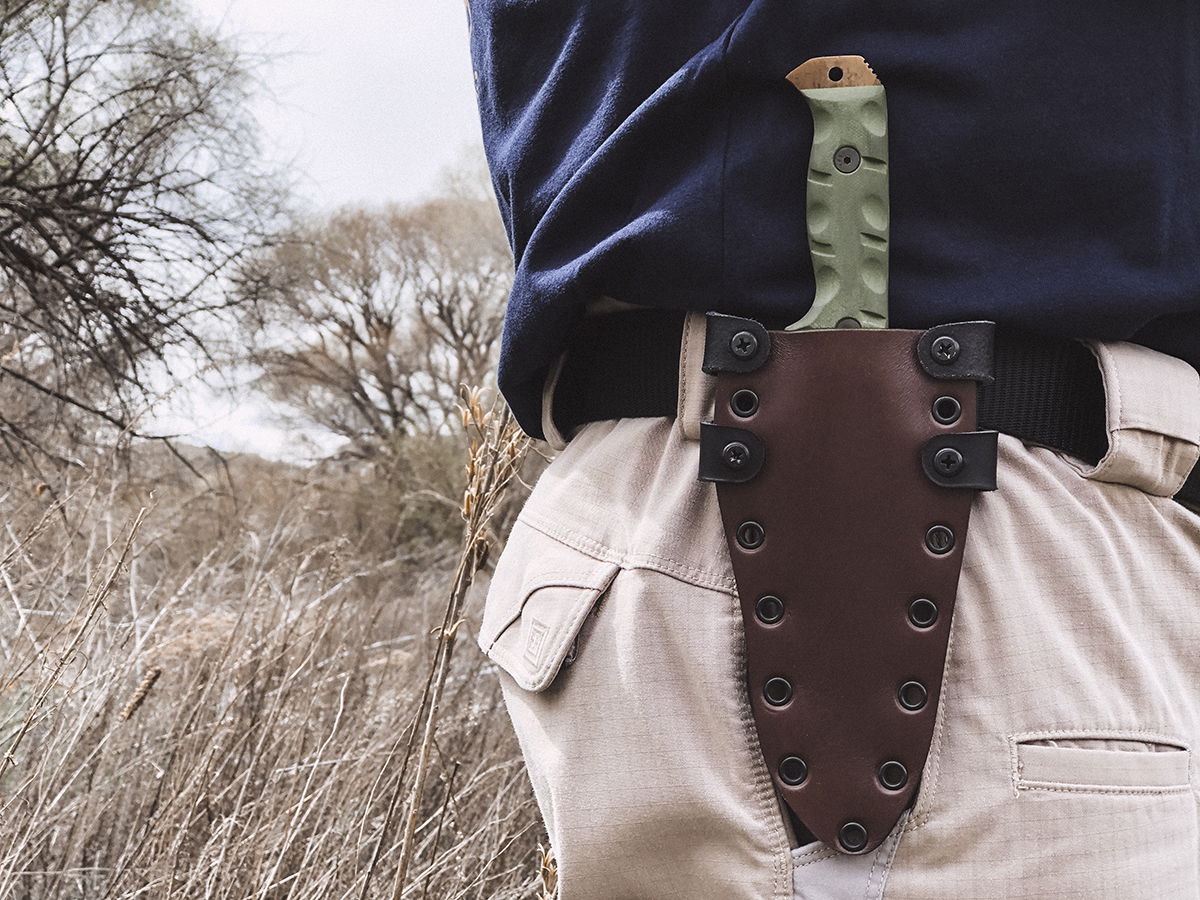 CHIEF
The Chief rules them all as a superior outdoors knife! Its classic drop point blade style is custom heat-treated and hollow ground from CPM-3V steel to a fine, strong point. Holds an excellent edge while maintaining an outstanding level of strength and flexibility.

The handle has been textured and shaped by hand for comfort, with a subhilt and hand guard for easy and secure handling. It features full tang strength and flexibility, with an extended tang for glass breaking or applying concentrated force.

The Chief is the one to beat for hiking, backpacking, and as an excellent all-around camping and field knife.
So good it's my second one
"Even though the Chief doesn't look like a utilitarian knife it is actually very handy with the daily chores. I like the comfort and balance so well this is my second Chief. (different finish and scales)"
"This knife is magnificent! The design is beautiful with flowing lines, great hand fit, and spectacular finish. The copper finish in the steel is unique and looks amazing. Must take a look!"
"I knew given their technical abilities and reputation that I would receive a sharp, strong and durable blade from this family run business. It quickly became one of my prized possessions. Thank you to the Dawson family and team members."