Chief | CPM-3V Steel | Specter Finish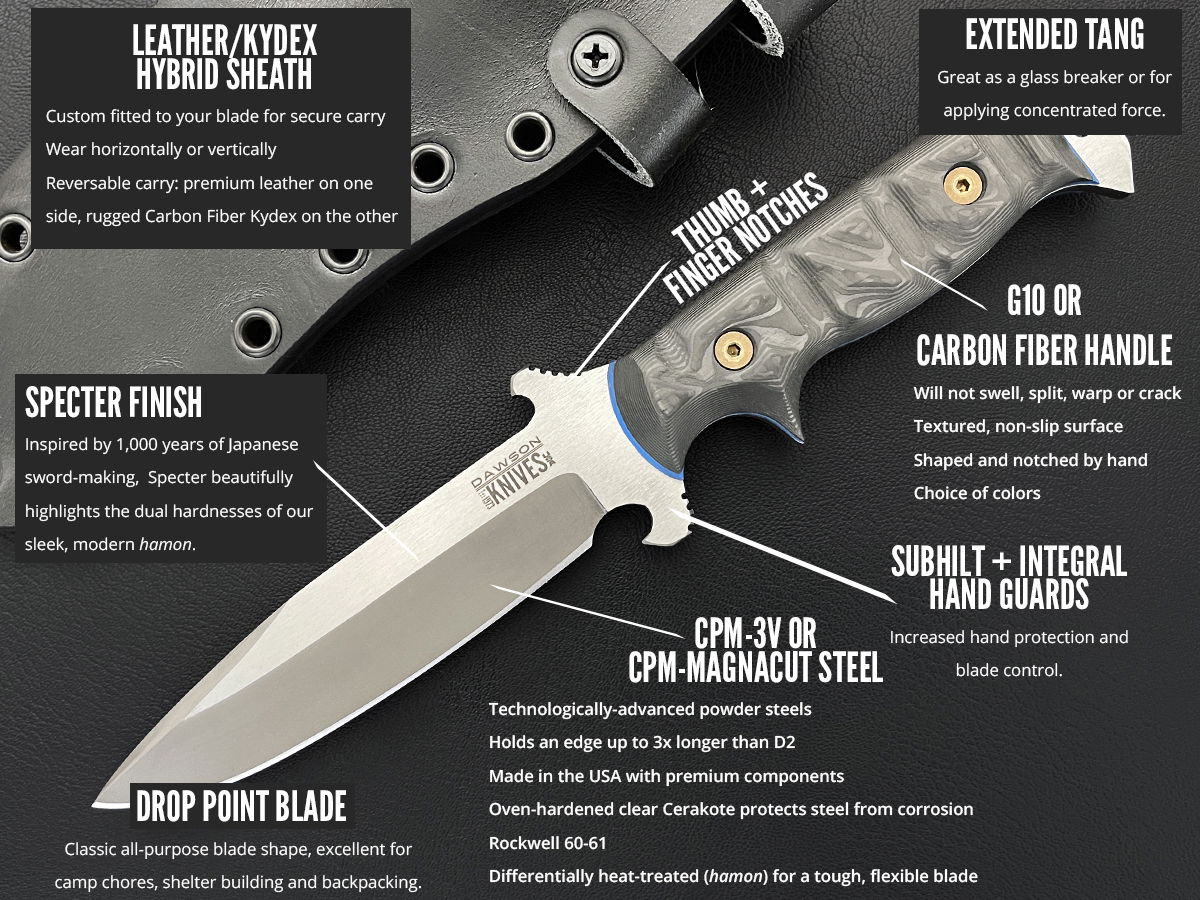 SPECS
100% designed and handcrafted in the USA
.210" CPM-3V American made powder steel
Next evolution in blade steel - edge wear 3x longer than D2
100% American made materials
5 1/4" blade, 9 3/4" overall
10oz knife only / 14oz including sheath
Heat treated in-house for maximum toughness, durability and edge-holding capability
Rockwell 60-61
Industry-leading clear Cerakote© finish protects your blade from corrosion
Balanced as a superior chopper and camp knife
Textured G10 handle will not swell, split, warp or crack
Custom fitted Leather + Kydex sheath for carry on belt or backpack
Thumb and finger rests for control and safe handling
Lifetime free resharpen
Protected by Dawson Knives' Common Sense Guarantee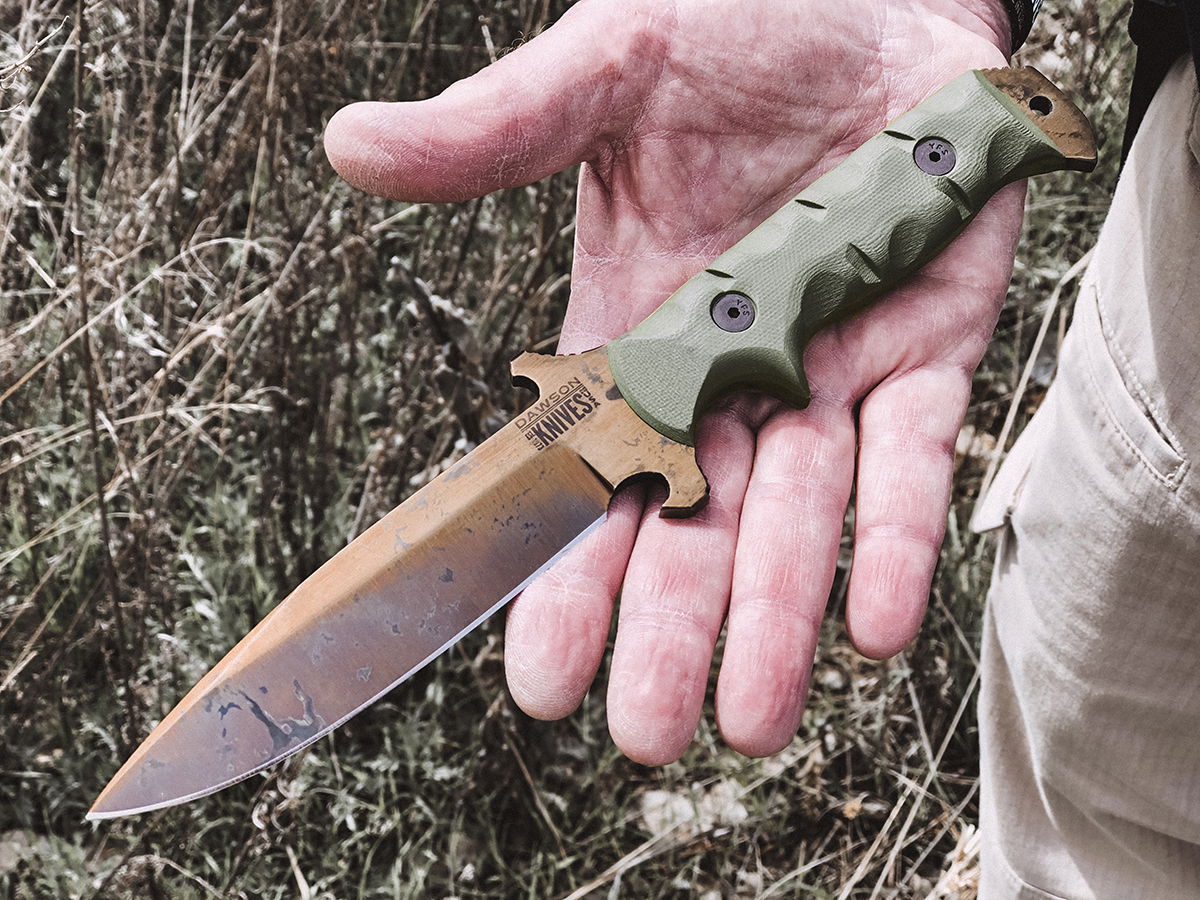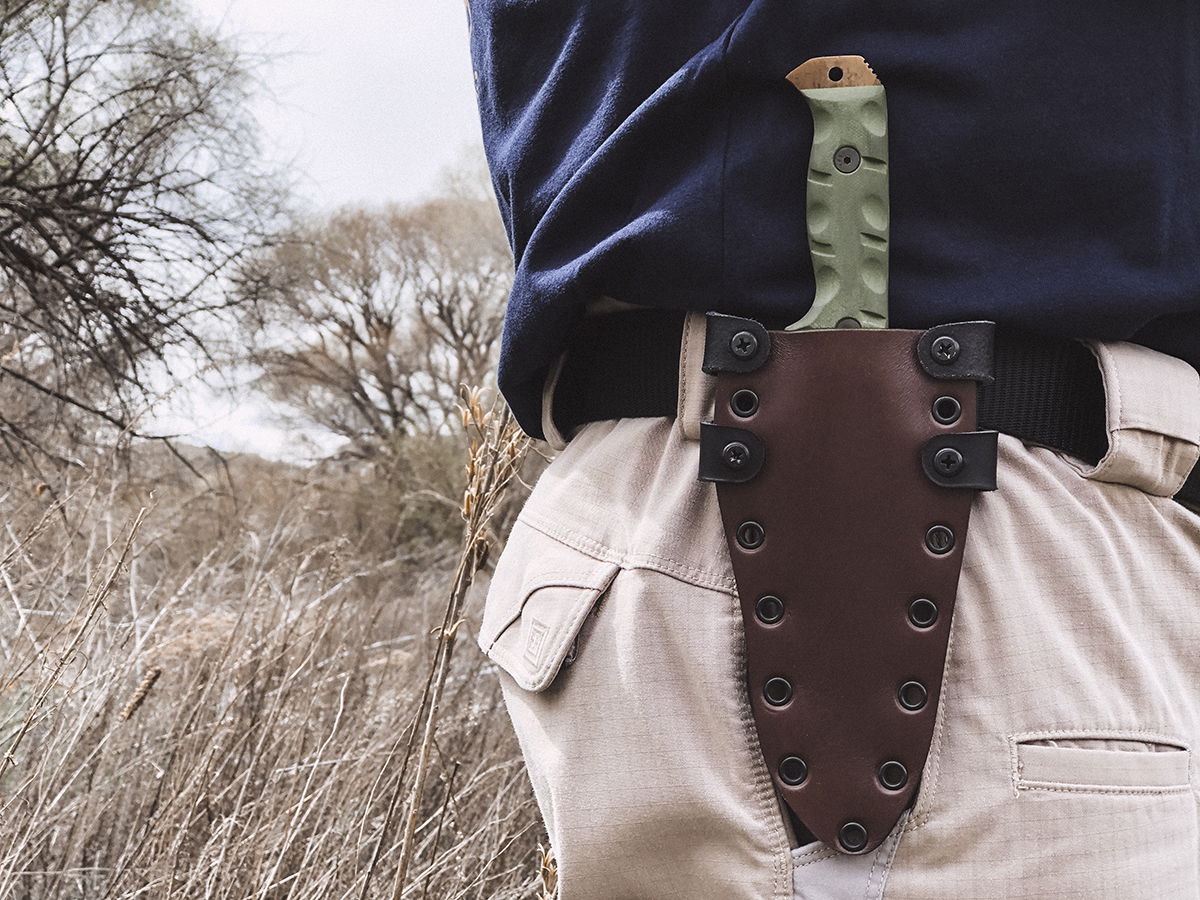 CHIEF
The Chief rules them all as a superior outdoors knife! Its classic drop point blade style is custom heat-treated and hollow ground from CPM-3V steel to a fine, strong point. Holds an excellent edge while maintaining an outstanding level of strength and flexibility.

The handle has been textured and shaped by hand for comfort, with a subhilt and hand guard for easy and secure handling. It features full tang strength and flexibility, with an extended tang for glass breaking or applying concentrated force.

The Chief is the one to beat for hiking, backpacking, and as an excellent all-around camping and field knife.
So good it's my second one
"Even though the Chief doesn't look like a utilitarian knife it is actually very handy with the daily chores. I like the comfort and balance so well this is my second Chief. (different finish and scales)"
"This knife is magnificent! The design is beautiful with flowing lines, great hand fit, and spectacular finish. The copper finish in the steel is unique and looks amazing. Must take a look!"
"I knew given their technical abilities and reputation that I would receive a sharp, strong and durable blade from this family run business. It quickly became one of my prized possessions. Thank you to the Dawson family and team members."
SPECS:
100% designed and handcrafted in the USA
.210" CPM-3V American made powder steel
Next evolution in blade steel - edge wear 3x longer than D2
100%

 

American made materials
5 1/4" blade, 9 3/4" overall
10oz knife only / 14oz including sheath
Heat treated in-house for maximum toughness, durability and edge-holding capability
Rockwell

 

60-61
Beautiful two-toned

 

Specter

 

finish
Deep finger choil, thumb ramp allow improved control
Textured

 

G10 handle

 

will not swell, split, warp or crack
Custom fitted

 

Leather + Kydex sheath

 

for carry on belt or backpack
Thumb and finger rests for control and safe handling
Lifetime free resharpen
Protected by Dawson Knives'

 

Common Sense Guarantee
Stunning and Exceptionally Well-Made Knife
The Chief is beyond my expectations ! The craftsmanship and artistry is beautiful. This is my first Dawson knife ... took me months to be able to purchase one that was available ... absolutely worth the wait. I will be checking back frequently as there are other styles I hope come available in the very near future. Thank you and GOD Bless !
NEW Chief | CPM MagnaCut Stainless Steel | Arizona Copper Finish
My 2nd Dawson Knife, what is most impressive is the finish - Amazing! I love it, idk what you do to get that but it's Awesome! The style of the knife, the sharpness and overall esthetics/looks is one of a kind. Dawson knife inc. makes some of the finest knives avalible and the price for a custom knife. I know, I know bluh bluh, when you think about each knife they make it's done by one person, and essentially no two knives are exactly the same. I have medium size hands and this knife fits well in my hand, when I grab it out of the sheath my fore finger goes perfectly in position for a solid grasp. I have many knives, and this one adds to my collection not only as a collection but an EDC. It's perfect blade length, not the Rambo survival combo Bowie/Machette but a nice carry knife that can be used for your everyday use or something for protection if so needed. I support Dawson knives for their Belief in our God, Country and Family Values along with 3 Generations of knife makers. Also the customer service is beyond approach, everytime I have reached out to them Kika has always returned my email with answers. Usually the same day and I have had alot of communications with them. Thank you Kika! And the whole Crew at Dawson Knives!
Uncommon Quality
I received the Dawson CPM MagnaCut New Chief today. The knife is nearly stunning in the quality of its manufacture. Everything works together and taken as a whole, this knife is a family heirloom. My son will be presented with this knife when he graduates from USAF Special Forces Training in June. My wife and I are extremely proud of his accomplishment, and we are honored to be able to present him with his new Dawson Chief as a suitable reminder of it. Thank you, Dawson Family, for this unique and robust piece of craftsmanship, it is more than I'd hope for.
Really like the deeper index finger notch
I've been waiting for the MagnaCut in the Specter Finish, but had to go with the Chief with the Arizona Copper. The knife seems to give me greater control over the Raider 5 due to the opposing thumb and forefinger pressure. The Raider 5 comes out of the sheath cleaner than the Chief, and I find that putting it on the belt horizontally keeps it out of the way on the lower back. Putting it back necessitates a greater attention due to location, Really excited to add the Chief to my collection!
Chief | CPM MagnaCut Stainless Steel |
Love the new blade, extremely durable and looks great! Appreciate the holder that came with it also! Thank-you for making such a quality product!
Awesome handle. Great company.