Redemption Bowie | CPM-3V Steel | Arizona Copper Finish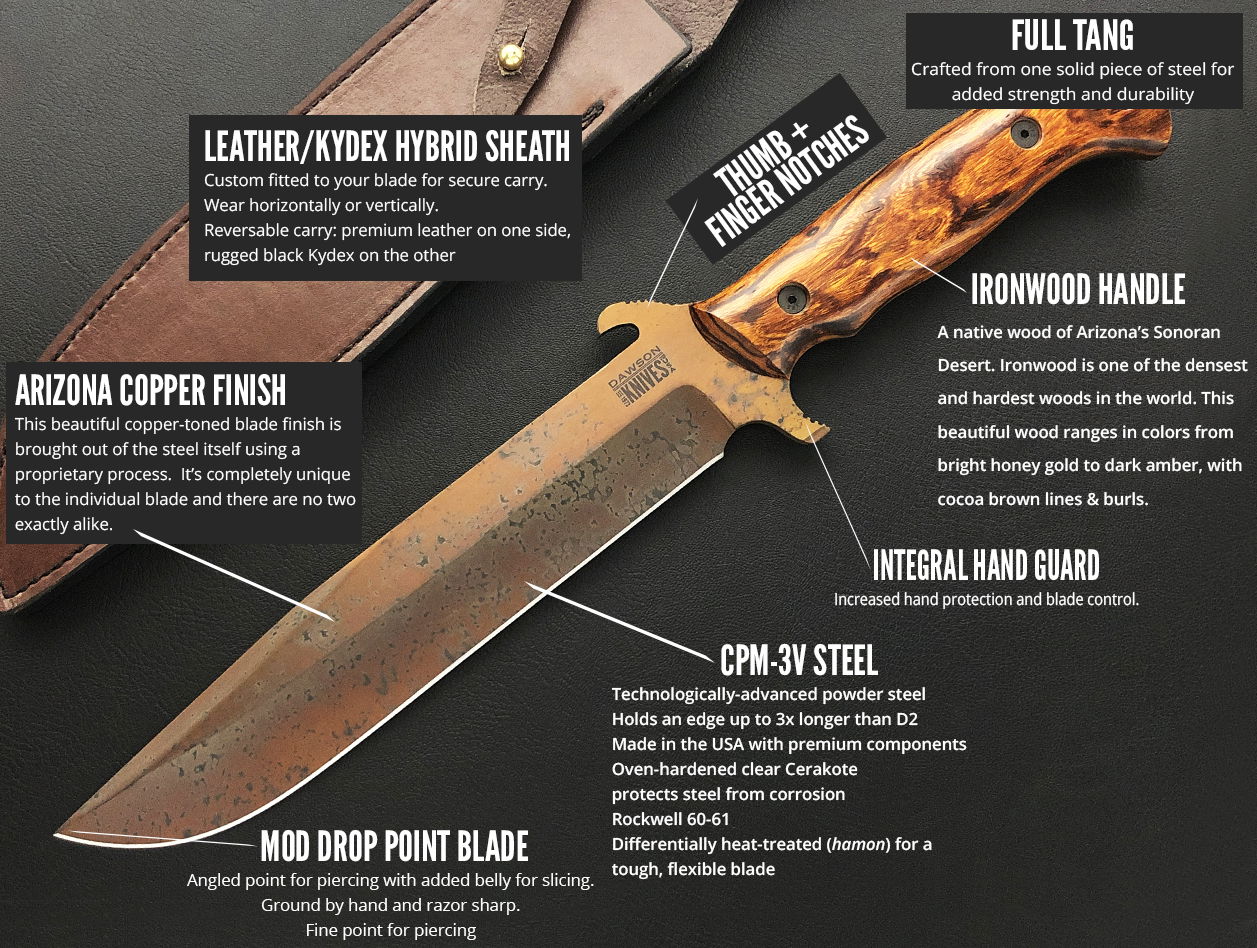 Blade: 9.5"
Blade Width: 1 3/4"
Overall: 15 5/8"
Weight (knife only): 1lb, 4oz
Weight (knife w/ sheath): 1lb, 11oz
American craftsmanship at its best
This blade is awesome. The wrapped ironwood handle allows for great grip. The blade itself is flawless. The sheath is very good as well. All around a great package. This is why I keep coming back to Dawson.
Rocking Redemption Bowie
I'm a fan of Dawson Knives, I have a few. The Redemption is tough, sharp and nice looking. I have zero regrets and will continue to buy Dawson because of the great representation this knife provides.
Excellence
What a beautiful knife…couldn't ask for better…period…never disappointed with Dawson….excellence is thier middle name
Yet Another Work of Art
I have been a fan since my first Dawson knife from Barry in the early 80s. This Redemption Bowie is a standout in subtle beauty. The new "liners" add a crowning touch to the rich finish of the Desert Ironwood and Arizona Copper finish. I'm sorry, this one will not go hunting ?
Hello James!
Thank you for that amazing 5 star review on your new Redemption Bowie! We are thrilled to hear that you like it so much and we hope you continue to love it for the many years to come. As always, thank you for the continued support to our family business. May your edge always be sharp!
Redemption Bowie an instant classic
Sorry Rambo part two knife-REDEMPTION BOWIE took your place as my best knife in my collection...that says it all!